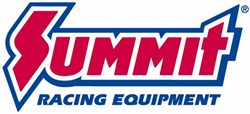 Tallamdge, OH (PRWEB) September 27, 2013
Stage 8 made its name with locking header bolts, but it makes fasteners for many other components too—even parts you probably never though needed the security of a locking fastener. All are now available at Summit Racing.
All Stage 8 locking fasteners use a patented system that consists of a grooved hex-head bolt, a retainer, and a snap clip. The retainer fits over the bolt head and locks the bolt against the component, and the snap clip holds the retainer in place. Once Stage 8 fasteners are tightened down, they won't back out.
Summit Racing offers Stage 8 Locking Fasteners for the following components:

Headers, header collectors, and exhaust manifolds
Valve covers
Intake manifolds
• Oil and transmission pans

Harmonic dampers
Flywheels and flexplates
• Water pumps and starters

Distributor hold-down clamps
Summit Racing also carries Stage 8's X-Lock locking spindle nut kits for Dana 44 and Dana 60 axles. Developed for off-road racing vehicles, the X-Locks replace the OEM jam nut system. Laser-cut from heat-treated and through-hardened 4130 steel that has been heat-treated and through-hardened, the locks can be installed without any special tools. The spindle nut itself can be set to a specific pre-load value, and can be locked within a half-degree of any position so you will never over- or under-torque it.
Link to All Stage 8 Products at Summit Racing
Summit Racing Equipment
http://www.SummitRacing.com
1-800-230-3030