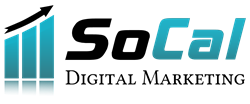 Irvine, CA (PRWEB) September 27, 2013
Business owners in Southern California who have been thinking of implementing a search engine optimization plan or creating a new website can now receive a significant cost savings of $199 off from SoCal Digital Marketing now until the end of 2013. To redeem the offer for $199 off a website design project or SEO plan simply contact the firm at (949) 309-8845 and say "Online Offer" to receive the discount. The leading Southern California internet marketing firm offers four comprehensive SEO plans and from now until the end of December 2013, business owners will receive $199 off of their first month of service when they sign up for any of the plans.
SoCal Digital Marketing owner Andrew Guida, announced the promotion and reiterated his firm's commitment to helping small business owners develop the most effective web presence possible. The company was founded to help local Southern California businesses develop professional websites and to have a partner that understands the concept of driving traffic to a website in order to maximize the clients return on its website investment.
The summer promotion gives business professionals the flexibility to choose what works best for them, since no matter the plan they choose they will receive an initial substantial savings. The SoCal Digital Marketing plans start with the Local Plan for those who want a basic level of support. From there the company offers clients the Competitive Plan, the Enterprise Plan and the highly comprehensive SEO Custom Campaign that is tailored to your business. Each plan is designed to meet different needs for clients, based on their online experience and level of online activity.
The summer promotion applies to all four plans and small businesses have until the end of December 2013 to take advantage of this special savings. Those interested in learning more about SoCal Digital Marketing can visit the company's website, call at 949.309.8845 or email the firm at contact(at)socaldigitalmarketing(dot)com. They also have a presence on Facebook, Twitter, Youtube and Google +.
About SoCal Digital Marketing
SoCal Digital Marketing is a local Web Development and Orange County SEO Company that specializes in internet marketing. SoCal Digital Marketing has been professionally designing websites and providing internet marketing services for 3 years and have achieved high website rankings for their clientele.