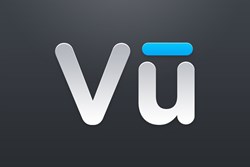 We're happy to partner with an innovative startup like Vu Digital to showcase our community's photos and add a deeper visual layer to the content of its app. - Oleg Gutsol, CEO and co-founder, 500px.
(PRWEB) September 27, 2013
It's not an origin story you hear very often. A small division of a major company leaves home to embark on a journey into the great unknown: the startup. The startup in question? Mississippi-based Vu Digital, whose goal is to reimagine the future of content personalization.
Vu Digital's debut product, Vu, delivers spot-on personalized content recommendations through a sophisticated machine-learning engine and has proven itself a hit with both users and app markets alike. Vu has garnered glowing user reviews and snagged both App Store Editors' Choice and Google Play's Play Picks designations.
Now, Vu Digital announces the release of Vu for iPad. This marks the debut of both a gorgeous new magazine-style interface and the announcement of a new partnership with Toronto-based startup 500px, who will be powering the stunning images through their premier professional photography community. Vu users will no doubt be delighted by the jaw-dropping photography that dynamically changes according to their current location and weather-conditions, but the Vu Digital / 500px partnership signals much more than that.
"For us, 500px is an ideal partner for the amazing photography they're helping us bring to our Vuers. It's so gratifying to be in the company of an industry leader like 500px," says Wade Smith, Vice President of Operations. "They're the epitome of a standout startup story. We feel a kinship with their passion and their dedication to the community they've built--qualities we value so much ourselves."
"Images are such an integral part of the stories people discover and share," says Oleg Gutsol, CEO and co-founder, 500px. "We're happy to partner with an innovative startup like Vu Digital to showcase our community's photos and add a deeper visual layer to the
content on its app."
The iPad release also boasts a smarter, more robust Vu Finder, the machine learning 'brain' that fuels Vu's content recommendations. Its sophisticated, ever-evolving engine learns from every user interaction with it, giving it a considerable edge over its other content reader competitors. It's responsible for getting the right content in front of the right users, no matter what their interests may be. And while Vu Finder is an intuitive learner, users still hold the ultimate control over their content experience. For example, users can add a custom stream of content called a Vu, so they'll never miss out on the news that matters most to them. The more users interact with the app, the more they shape and improve their Vu experience.
Those already familiar with Vu will find it easier than ever to interact with all the features they know and love, such as creating custom Vues, browsing or discovering content, and sharing all their favorites with their social networks.
If you haven't yet experienced Vu, you can download it here!
https://itunes.apple.com/ca/app/vu/id606928619
https://play.google.com/store/apps/details?id=com.bnotions.myvu.android&hl=en
About Vu Digital LLC
Vu Digital, LLC headquartered in Ridgeland, MS was formed in 2013 as a technology company committed to delivering customized and personalized online content. Vu's initial product, also called Vu, is the world's first comprehensive online content personalization tool that delivers the content users need, want and maybe didn't even know existed straight to them without search.
Vū is unique because it learns based on users' activity on all Vū enabled sites, creating a customized online experience for each and every user based on their entire digital profile. In other words, Vū establishes user insight based on a person's entire journey throughout the Web.
Vū's special algorithm uses social login attributes, as well as content interactions, to recommend articles on sites to Vū users. Even those articles that may be deep within certain sites, and difficult for users to find, can be surfaced and exposed to the right people at the right time. Vū is a free service for both content providers and consumers.
About 500px
500px is a premium photo-sharing platform for aspiring and professional photographers. It is powered by creative people worldwide and lets you discover, share, buy and sell inspiring photos. 500px was founded in late 2009 by two acclaimed photographers and entrepreneurs, Oleg Gutsol and Evgeny Tchebotarev. With over 2.5 million users and over a billion page views each month, it has grown to become the premier platform with the highest quality photography worldwide. In 2013, the company received $8.8 million in Series A funding from Andreessen Horowitz and Harrison Metal. For more information, please visit the 500px newsroom.