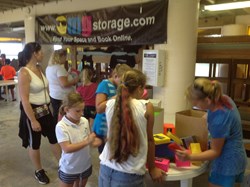 It was amazing to see the children start to put all the boxes in the larger box and realize it wasn't going to work, and take them out and mentally trying to picture how to get them to fit.
North Miami Beach, FL (PRWEB) September 27, 2013
OMGstorage.com participated at two Girl Scouts of Tropical Florida Family events: September 7 in Miami Lakes and September 21 on Scout Key in the Florida Keys.
The Box in a Box activity hosted by OMGstorage.com was a hit among girls, boys and adults alike. The challenge in the Box in the Box activity is for participants to pack a larger box using a variety of smaller, colored boxes and cylinder shapes making sure to use at least one color box from each of the eight different colors. This simple, Tetris-type puzzle helps participants develop spatial reasoning skills, sort of like when customers places their belongings within a self storage unit or packing a suitcase, try to fit as much as possible in the space available. "It was amazing to see the children start to put all the boxes in the larger box and realize it wasn't going to work, and take them out and mentally trying to picture how to get them to fit. You really were able to see them thinking and measuring the boxes, trying over and over to make it work," commented Tony Prada, COO of OMGStorage.com. Children and adults alike were challenged, even trying to beat their previous score. Some challenged themselves further by trying an even smaller box and timing themselves.
Several adults commented what a great activity it was and were surprised at the range of jobs that require spatial reasoning skills. Jobs like engineering, architecture, scientist, physicists, computer science and other STEM fields. Unfortunately, students today are not proficient or interested in science, technology, engineering or math. The Bureau of Statistics state that only about 16% of students graduate with a Bachelor's Degree specializing in STEM fields. Of the 16% of STEM Bachelor Degrees, fewer than 25% of them are women. As a Nation, we are falling short of graduating enough students in STEM fields to meet the demand which is projected to be about 1 million openings by 2018. According to the US Department of Labor, fifteen out of the twenty fastest growing occupations require significant mathematics, science and technology preparation. The STEM Dilemma states that out of the 3.8 million 9th graders only 233,000 end up choosing a STEM field. Broken down that is only 6 STEM graduates to every 100 9th graders. Encouraging all children and especially young girls to take part in fun, hands-on STEM related activities only helps develop the best and brightest minds that are vital to our nation's future.
Visit the OMGStorage.com Box in the Box activity at the next Girl Scouts of Tropical Florida family event on Saturday, September 28, 2013, 10 am to 2pm at 11347 SW 160 Street, Miami, FL 33157. This free, family event features many fun activities and is open to the public.
About OMGstorage.com
Established in 2013, OMGstorage.com is a brand of OMG Storage Development, a leading destination in online storage unit booking and marketing showcasing the top self-storage companies in real time. For more information on the company and its philosophy, visit the site at OMGstorage.com.
The Girl Scout Council of Tropical Florida, Inc. is the preeminent local organization dedicated solely to all girls. Where, in an accepting and nurturing environment, girls build courage, confidence, and character. In partnership with committed adult volunteers, girls develop qualities that will serve them all their lives, such as, leadership, strong values, social conscience, and conviction about their own potential and self-worth
Girl Scouts of the USA (GSUSA) is the preeminent organization in the world committed to girls growing strong. Girl Scouting builds girls of courage, confidence, and character, who make the world a better place.