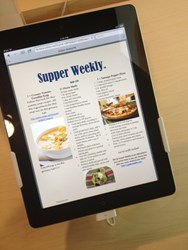 Grand Junction, CO (PRWEB) September 28, 2013
Heidi Swain, professional meal planner and founder of Supper Weekly is now offering her meal planners to realtors, or anyone who wants to reach out to their lead list with a unique and fun promotional gift. Business owners can now place their picture and contact information on the front cover of one of these meal planners and email them to their contact list or post them on their blog or website. Currently, there are 30 meal planners to choose from and more to come.
People will love to receive customized Supper Weekly issues because each issue has five dinner recipes and a weekly grocery. Once the meal planner is opened, it can be printed or viewed on a smart phone or tablet at the grocery store or in the kitchen. "The best part about sending customized meal plans to perspective clients is that they will think about the person who sent it to them every time they use it," says Swain.
It's time to think outside of the box in terms of contact list promotion. Just say "no" to boring refrigerator magnets and coffee mug marketing campaigns. "People appreciate it when a little thought goes into a promotional gift." Heidi says. These customized Supper Weekly Issue are both thoughtful, unique, and very inexpensive. It costs ten dollars to customize one issue and keep the link to that issue for life. And since the meal plans are are given electronically, there is no shipping costs. Visit the website below for custom order and pricing information.