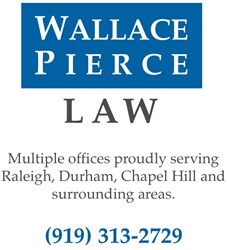 Durham, NC (PRWEB) September 29, 2013
Wallace Pierce Law is now offering complimentary consultations to individuals involved in automobile accidents in North Carolina. Wallace Pierce Law and their professional staff provide comprehensive consultations to accident victims who often don't know where find legal representation after their accident. According to Attorney Pierce, "We understand the confusion that results after an accident and we stand ready to help anyone who is facing the legal and medical issues that must be addressed after an accident."
The consultation begins with a visit to the Wallace Pierce Law website, where visitors will find an easy consultation contact form that they can fill out the pertinent information about the accident. If more comfortable, the accident victim could call the office to speak with a legal representative and set up a free consultation.
The Wallace Pierce consultations all begin by addressing the most common questions that accident victims have. Each discussion is geared towards making sure that potential clients know where to begin between the time of the accident and the time they decide to pursue legal action. These questions range from when to seek medical treatment to handling treatments without insurance to the steps needed to protect their North Carolina Personal Injury claim.
Wallace Pierce strives to ensure that each and every client leaves their initial consultation knowing what exactly their legal rights are. Should they choose to move forward, Wallace Pierce and their North Carolina Personal Injury legal team can guide the client through every aspects of the case in order to obtain a positive outcome.
Those interested in learning more about personal injury attorneys in North Carolina can visit their website at http://www.piercelawnc.com or call 919.313.2729 to speak with a representative of the firm.
###