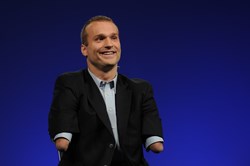 Kyle will inspire our YMCA Miracle League participants, their families and the whole community to believe in themselves and never give up.
Charlotte, NC (PRWEB) September 26, 2013
Last fall, the University City YMCA celebrated its very first opening day of the YMCA Miracle League, a baseball program for children with special needs. On Thursday, October 10 at 6:00 p.m., the Y will light up its custom-made field for a night of true inspiration and the opportunity for its players and the community to meet athlete, author and motivational speaker Kyle Maynard.
Despite being born with arms that end at the elbows and legs that end near the knees, Maynard set records in weightlifting, fought mixed martial arts and wrestled. Most recently, he became the first man to crawl on his own to the summit of Mt. Kilimanjaro, which awarded him his 2nd ESPY Award. Maynard is in town to speak at the Hood Hargett Breakfast Club on Friday, October 11.
His best-selling book, "No Excuses," and appearances on "The Oprah Winfrey Show," "Larry King Live," ESPN's "Sportscenter," ABC's "20/20" and "Good Morning America" continue to inspire audiences of every age and ability all over the world.
"At the Y, we believe in nurturing the potential of every child and teen," said Paul Petr, executive director of the University City YMCA. "Kyle will inspire our YMCA Miracle League participants, their families and the whole community to believe in themselves and never give up."
Representatives from the Wounded Warrior Project are also expected to attend the event.
About YMCA of Greater Charlotte
The Y is one of the nation's leading nonprofits strengthening communities through youth development, healthy living and social responsibility. The YMCA of Greater Charlotte, comprised of 18 Y branches and two resident camps, engages approximately 260,000 men, women and children – regardless of age, income or background – to nurture the potential of children and teens, improve the nation's health and well-being, and provide opportunities to give back and support neighbors. Deeply rooted in the community for more than 135 years, the YMCA of Greater Charlotte has the long-standing relationships and physical presence not just to promise, but to deliver, lasting personal and social change. ymcacharlotte.org
The University City YMCA and Miracle League teamed up in the fall of 2012 to give children with physical and cognitive disabilities a chance to play baseball. The Y's custom-designed baseball complex is Charlotte's first completely wheelchair accessible surface that allows children of all abilities to take the field. Through the generosity of donors and volunteers, the program continues to grow, giving every child the opportunity to play baseball regardless of physical ability or income. ymcamiracleleague.org
About Hood Hargett Breakfast Club
Hood Hargett Breakfast Club is a "category exclusive" business development organization that hosts networking events throughout the year for its members and guests. The goal of these events is to provide success-minded business owners with first-class venues to entertain their clients and prospects. These opportunities to develop new business relationships, and enhance existing ones, are key to the ongoing success of Hood Hargett Breakfast Club and its members. For more information, visit http://www.hoodhargettbreakfastclub.com.