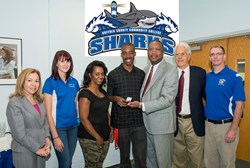 Selden, NY (PRWEB) September 26, 2013
At a recent ceremony, Suffolk County Community College student-athlete, Dannie Holland, received a ring commemorating his National Junior College Athletic Association 2013 National Championship Title in the Triple Jump.
Dannie is a Longwood High School graduate and a two-time National Champion triple jumper for the College's track & field team. As a high school student, Dannie was a stellar jumper and qualified for the New York State Championships. In his freshman year at Suffolk, Dannie won the triple jump at the NJCAA North East District Championship and Division III National Championship, and was a First-Team All-American.
It was in his sophomore season at Suffolk that Dannie really matured as a triple jumper. During the regular season Dannie broke two meet records and distinguished himself at the legendary Penn Relays with a second place finish against a field of competitors representing mainly four-year schools. Capping the season with his second triple jump national title and First-Team All-American honors at the 2013 NJCAA Division III National Championship, Dannie became the only track & field athlete in Suffolk's history to repeat as national champion. Dannie's winning jump at the national meet was a personal best mark of 14.94 meters (49' ½") and a new school record. He also finished 7th in the long jump.
Dannie will be graduating from Suffolk this winter.