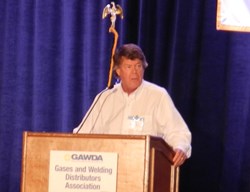 "Under his leadership over the last 45 years, the company has become as well known for its progressive associate relations as for its excellent products and service."
Hanover, NH (PRWEB) September 26, 2013
The Gases and Welding Distributors Association (GAWDA) is recognizing Hypertherm founder and CEO Dick Couch with its Presidential Award of Excellence. The award, presented to only seven other individuals in GAWDA history, recognizes outstanding contributions to the industry.
In bestowing the award at the organization's annual convention, GAWDA president Craig Wood cited Mr. Couch's passion and dedication to improving the gas and welding industry, calling it an honor to have worked with Mr. Couch over the course of his career. "The progress we make as an organization is a result of volunteers and members like Mr. Couch who work hard every day to advance our mission."
"Under his leadership over the last 45 years, the company has become as well known for its progressive associate relations as for its excellent products and service." Mr. Wood continued. He went on to mention Hypertherm's 111 patents related to metal cutting technology, noting that Mr. Couch is a named-inventor or co-inventor on 42 of those patents. He also highlighted the numerous awards Hypertherm has received for its dedication to the well-being of its associates, the fostering of new technology, as well as the company's focus on sustainability and the environment, and of creating a culture of continuous improvement.
Dick Couch founded Hypertherm in 1968 on a patent of water injection cutting, a process that involves radially injecting water into the plasma cutting nozzle. Since that time, and under his leadership, Hypertherm has introduced a number of technological advances that have helped to improve the cut quality, consumable life, reliability, and overall performance of Hypertherm metal cutting systems. Those breakthroughs include the introduction of high definition plasma cutting, long life oxygen cutting, coaxial assisted jet technology, long life consumables, True Hole, True Bevel, and Rapid Part technologies and more.
Nominees for the Presidential Award of Excellence are reviewed by GAWDA's president, president-elect, and first vice-president. Finalists are then forwarded to representatives from the organization's executive committee and board of directors who make a final decision.
Hypertherm designs and manufactures advanced cutting products for use in a variety of industries such as shipbuilding, manufacturing, and automotive repair. Its product line includes handheld and mechanized plasma systems and consumables, fiber laser and waterjet products, in addition to CNC motion and height controls and CAM cutting software. Hypertherm systems are trusted for performance and reliability that result in increased productivity and profitability for hundreds of thousands of businesses. The New Hampshire based company's reputation for cutting innovation dates back more than 45 years, to 1968, with Hypertherm's invention of water injection plasma cutting. The associate owned company, consistently named one of the best places to work in America, has more than 1,300 associates along with operations and partner representation worldwide. http://www.hypertherm.com.