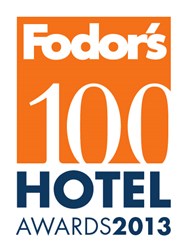 New York, NY (PRWEB) September 27, 2013
Fodor's Travel, the leading name in travel guides for 77 years, today announces the 2013 Fodor's 100 Hotel Award winners. Chosen by the experts at Fodor's Travel, this third-annual list features a selection of 100 hotels across eight categories that represent 2013's global hospitality trends. This year's categories include Home Suite Homes, Culinary Gems, Sleek City Addresses and more.
"At Fodor's, hotels are more than our lifeblood—they're our passion. With every stay, we obsess over design choices, service, and amenities," explained Arabella Bowen, Fodor's Travel executive editorial director. "To compile the Fodor's 100, we look for properties within emerging destinations, trends our editors have been seeing throughout the year, new and noteworthy openings, and enduring favorites to create a list that will inspire all types of travel and traveler."
With 43 countries represented, the 2013 Fodor's 100 cover every corner of the globe, from Amsterdam to Zambia. Buzzy hotspots like Myanmar and Colombia make their first appearances on the list alongside properties in perennially popular London, New York City, and St. Lucia. Europe dominates the winners this year with 30 hotels while the U.S. is a close second with 28 hotels making the cut.
How the List is Chosen
Each year, Fodor's Travel invites their roster of 500 global contributors to nominate the best hotels in the destinations they live and write in. Fodor's senior editorial team deliberated on over 4,000 Fodor's Choice picks and new property reviews, poring over the list for months to narrow their top selections.
fodor's Expert Point of View
Fodor's Travel covers 7,500 destinations and more than 17,000 of the best hotels around the globe, each of which receives an in-person evaluation. Fodor's editors' decades of experience helps take the guesswork out of trip planning, recommending only those hotels, restaurants, and things to do that meet their high standards, and designating the absolute musts with "Fodor's Choice." Whether travelers use print guidebooks, ebooks, mobile apps, or Fodors.com, Fodor's provides highly curated advice on how to travel smarter, including the best arts and culture offerings, where to eat and stay at every price point, and tips and strategies for an authentic and immersive experience.
A Selection of the Fodor's 2013 100 Hotel Award Winners
Creative Conversions — Adaptive reuse offers new lives to former factories, train stations and more
Winners include: Hotel Santa Teresa (Brazil); Hotel du Vin (Scotland); Mandarin Oriental Prague (Czech Republic)
Enduring Classics — Iconic, landmark hotels with timeless appeal
Winners include: The Gritti Palace (Italy); The Brazilian Court Hotel (United States); The Peninsula Hong Kong (Hong Kong)
Home Suite Homes — Intimate pied-a-terres make guests feel right at home
Winners include: Casa Lecanda (Mexico); Gladstone Hotel (Canada); The Commons Hotel (United States)
Culinary Gems — Hotels with onsite restaurants helmed by top toques
Winners include: Eden Rock (St. Barths); Hotel Metropole (Monaco); Dorado Beach, A Ritz-Carlton Reserve (Puerto Rico)
Exotic Hideaways — Destination hotels for a trip of a lifetime
Winners include: Hotel Benesse House (Japan); Casa San Agustín (Colombia); Uma by COMO, Punakha (Bhutan)
Local Characters —An immersive sense of place extends from décor to activities
Winners include: Kapsaliana Village Hotel (Greece); The Governor's Residence (Myanmar); Volcano House (United States)
Sleek City Addresses — Glossy city hotels that offer high style and first-rate amenities
Winners include: Hyatt Union Square New York (United States); Le Citizen Hôtel (France); Mamilla Hotel (Israel)
Blissful Beach Retreats — Best beach spots from all-inclusives to beachfront bungalows
Winners include: Banyan Tree Seychelles (Seychelles); Halekulani (United States); Pimalai Resort and Spa (Thailand)
The complete list of this year's Fodor's 100 Hotel Award winners is available online at http://www.fodors.com/hotel-awards/2013 and for download as a free eBook from iBooks.
About Fodor's Travel
Experts in travel for over 75 years, Fodor's Travel's award-winning guidebooks, website, eBooks, and mobile apps provide today's traveler with up-to-the-minute information on over 7,500 worldwide destinations. Our vast team of global correspondents offers highly curated, expert advice on how to travel smarter, from the best arts and culture offerings, to tips and strategies for an authentic and immersive experience, and the right hotels and restaurants for every taste and budget. Learn more at Fodors.com and join our engaged travel community on Facebook (facebook.com/FodorsTravel) and Twitter (@fodorstravel). Fodor's Travel is an imprint of Random House LLC, a Penguin Random House Company.