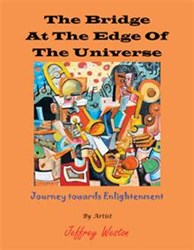 Cascade, Idaho (PRWEB) September 30, 2013
Where will The Bridge at the Edge of the Universe lead you?
The Bridge at the Edge of the Universe by Jeffrey Weston is a spiritual guidebook that will lead others on the path towards enlightenment through learning a repeatable physical process to measure spiritual consciousness and consistently tell truth from non-truth.
In his book, Weston outlines a two to three-week journey for raising spiritual consciousness, seeing the world through a new perspective, solving global problems and getting better results in one's life. Weston's book introduces an expanded Map of Spiritual Consciousness to readers, which is essential to understanding and cultivating self-awareness.
"This book allows readers to move beyond their current level of consciousness, thus allowing them to experience new and exciting dimensions of awareness," said Weston. "Readers will learn to become their own guru and become aware of universal consciousness."
Beyond focusing on individual enlightenment, this book also covers collective enlightenment and with this understanding, the reader becomes part of the solution to the world's problems.
For more information, visit http://www.jeffreywestonart.com.
The Bridge at the Edge of the Universe
By Jeffrey Weston
ISBN: 978-1-48363-910-9
Softcover retail price: $26.99
E-book price: $5.99
About the author
Jeffrey Weston is a 21st century Renaissance man. A lifetime artist, Jeffrey won the 2005 U.S. National Snow Sculpture Championship and has participated in International events as well. He is a four-time bronze medalist at the World Ice Carving Championships and has shown paintings in New York City, San Francisco, Vegas and other cities. This book is a summation of much of the knowledge acquired over a lifetime of study.
Available at http://www.amazon.com, http://www.bn.com, and http://www.xlibris.com.