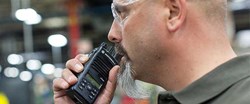 Dallas, TX (PRWEB) September 27, 2013
As businesses focus more and more on mobility, a choice often has to be made between issuing employees cell phones or two-way radios. TodaysWirelessWorld.com, an online magazine focused on advances in wireless technologies, recently explored the relative merits of each technology as they apply to business users.
"What's Best for Your Business: Cell Phones or Two-Way Radios?" begins by noting that, "Companies want to arm employees with the tools needed to do more things from more places — and to do it all faster. Smartphones are getting smarter. And two-way radios are getting smaller and more sophisticated. In fact, cell phones and two-way radios now can be hard to tell apart."
The article written by Hugh Johnston explains that, "… in most cases, the two technologies are not direct competitors. Instead, cell phones and two-way radios are wireless mobile communications devices that have specific advantages, depending on the user's requirements. So, weighing the two options is really an exercise in needs analysis." The two-part series goes on to explore the relative strengths and weaknesses of phones and radios with respect to:

An organization's communication philosophy
The urgency of its communications
Coverage, reliability and security
Durability
Ease of use
The first article concludes that, "one option is not inherently better than the other. Both have advantages. The key is to find a wireless provider that offers both and can perform the kind of needs assessment that leads to a solution — not just a sale."
In recent weeks, TodaysWirelessWorld.com has featured articles on a range of wireless technologies:
In "For Event Security, Two-Way Radio Rentals Are the Way to Go," Chris Pace writes about how two-way radios have long been a necessity for major events. But instead of buying, many organizers opt for rentals.
For businesses in any industry, keeping information confidential is a high priority. "How to Keep Wireless LANs Secure" by Cherie Martin offers six steps to secure your wireless local area network.
Mike Gray drills down into specific industry needs in "Two-Way Radio Needs for Retailers Large and Small."
Law enforcement's latest needs are the topic of Mike Butler's "Mobile Command Centers: When Being Prepared is a Necessity."
The petrochemical industry is creating thousands of new jobs. In "Petrochemical Industry Expansion Will Include Wireless Solutions," Dwain Lunau explains how two-way radios are not only communications tools but safety devices.
About Today's Wireless World
Today's Wireless World magazine delivers news about the wireless industry to assist with workforce mobilization. Its online edition, TodaysWirelessWorld.com, has been re-launched in order to provide expanded coverage of two-way radios and other wireless solutions, as well as their applications across a range of industries. Today's Wireless World has an active social media presence on Twitter, Facebook, Google+, and LinkedIn. The magazine is also on Flipboard. For more information, visit http://www.TodaysWirelessWorld.com.