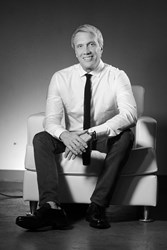 I think that Shoreditch and Fellowship Church are going to make a great combination!
Grapevine, Texas (PRWEB) September 30, 2013
Fellowship Church London and Senior Pastor Ed Young are hosting a six-day festival, spanning two weekends, in one of England's most vibrant areas, Spitalfields. The celebration will deliver an array of activities to unite Londoners and local Shoreditch businesses with entertainment and community. Free events include a comedy show, live music performances, art exhibitions, live photo shoots, physical training sessions, ping-pong competitions, cooking workshops and more! Attendees will also receive special discounts at some of London's hottest spots—including L!FE Shoreditch and the Aubin Cinema—by picking up a free "Love Is _____." wristband.
Festival attendees also have the opportunity to win a variety of prizes including Krispy Kreme doughnuts, clothing vouchers and iPads. In order to enter, contestants must share what love means to them on Twitter, Facebook, or Instagram—using #loveisfest. The winners will be announced at the grand opening of the new Fellowship Church London campus. The launch service will be at Shoreditch Town Hall, 380 Old Street, London, EC1V 9LT at 4pm on Sunday, 27th October 2013.
Fellowship Church, a global, non-denominational church, has the purpose of "uniting the London culture to reach the London community." Fellowship Church has 11 campuses worldwide, which includes Fellowship Live—an online live-streaming campus for global access. Senior Pastor Ed Young is eager to see the meshing of Fellowship Church with the London community. He has said, "The Shoreditch area is one of the most unique and exciting areas of London! And this October we can't wait to become part of this community and introduce the people of this area to Fellowship Church. I think that Shoreditch and Fellowship Church are going to make a great combination!"
More information about the "Love Is _______." Festival can be found at http://www.loveisfestival.com.
ABOUT ED YOUNG:
Ed Young is the founding pastor of Fellowship Church, one of the most attended churches in North America. He is an author and speaker noted for communicating biblical truth in creative and memorable ways. He has a passion for making the complex simple as he speaks truth to people in ways they can understand and apply to their everyday lives. He has written 14 books, including The New York Times best-seller Sexperiment.
To learn more about Ed Young and his ministries, visit EdYoung.com.
PRESS CONTACTS:
Contact: Beth Munby
Company: Fellowship Church
Phone: 07983629921
Email: beth(dot)munby(at)fellowshipchurch(dot)com
Contact: Kyley White
Company: Fellowship Church
Phone: 972-471-6779
Email: kyley(dot)white(at)fellowshipchurch(dot)com