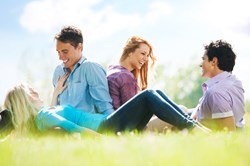 Columbia, MD (PRWEB) September 27, 2013
The dedicated and caring staff members at Drug Rehab Center Columbia understand that it takes a great amount of courage and dedication to seek treatment for addiction, which is why they recently devised an innovative new approach to addiction treatment that is showing results. Most people know that addiction can lead to numerous negative consequences, including but not limited to health, financial, and personal problems. Drug Rehab Center Columbia is trying to alter the image of addiction by emphasizing the positive changes a person undergoes while seeking treatment.
Mary S., an addiction treatment and recovery specialist at Drug Rehab Center Columbia, describes how the Center's new approach to treatment can help remove the stigma often associated with addiction and rehab, saying, "Many people can be reluctant to seek help for their addictions because they are afraid of being judged by society and their loved ones. Drug Rehab Center Columbia incorporates therapy sessions with family members and close friends to help recovering addicts know that they are not alone and are not being judged by those closest to them."
Drug Rehab Center Columbia has begun encouraging patients to take part in these new group therapy and counseling sessions. Mary explains, "Those who are close to an addict understand that addiction touches many lives. Witnessing their loved one receive help can create a sense of pride and happiness. When a recovering addict sees someone they are close to supporting them and being proud of them, it encourages them to continue with their sobriety achievements."
New alternative therapies at Drug Rehab Center Columbia also help to erase the negative image people often have of rehab centers. In addition to therapy and counseling, activities like yoga, exercise, and art are utilized. According to Mary, "Rehab is not a punishment. It is a way to begin bettering your life. Each and every patient at Drug Rehab Center Columbia is commended for seeking help with their addiction and encouraged to keep making positive changes in their lives."
About Drug Rehab Center Columbia:
Drug Rehab Center Columbia is an alcohol and drug addiction treatment center. With the help of our certified addiction specialists and individually designed treatment programs, people with addiction problems can triumph over substance abuse. If you are looking to beat your addiction, please visit our website at http://www.drugrehab-columbia.com or reach us by phone at (443) 539-7729.