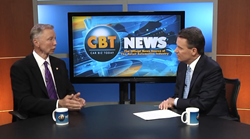 Atlanta, GA (PRWEB) September 26, 2013
Joe Verde, president of Joe Verde Sales and Management Training Incorporated (JVSMT), sat down with Jim Fitzpatrick, CEO and founder of CBT News, to talk about the key elements of creating sales, customer retention and managing the service drive.
CBT News will begin Verde's exclusive multi-part series on Sept. 26. The series will include successful training tips and management advice and can be viewed on the CBT daily newscast at http://www.cbtnews.com.
Verde has been in the car business since 1973 and founded JVSMT in 1985. His company is currently the no. 1 training company according to thousands of dealers and managers across the United States. Verde has also authored numerous industry books on sales and management, created a training network and spoken 25 times at the annual NADA Convention.
About CBT NEWS:
CBT News (Car Biz Today) is an online news source dedicated to providing the retail automotive industry with news, training and event coverage through various forms of multi-media journalism. The online news source caters information to car dealers and their personnel. CBT News is home to award winning broadcasters, Russell Brown and Bridget Everett, and is headquartered in Atlanta, GA.