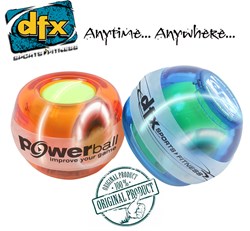 We are serious about protecting DFX's portfolio of products and the brand as a whole...
(PRWEB) September 27, 2013
DFX Sports and Fitness, an Anaheim, California based manufacturer, has recently kicked in to high gear, putting an emphasis on fighting against counterfeiters and their potentially dangerous products. Counterfeiting is a multi-million dollar industry which continues to threaten manufacturers around the globe. From inconspicuous individuals to organized operations; premeditated retail crime costs U.S. businesses $200-250 billion annually.
Known as the makers of the best-selling gyro exerciser in America, the DFX Powerball, the DFX brand is a shining symbol of cutting edge fitness products and gyro exercisers. Counterfeiters have taken notice of DFX's position as an industry leader and are now trying to capitalize on the company's success by producing counterfeit DFX products. DFX has taken a "Zero Tolerance" Position on fake goods, spending over $1.6 Million each year to combat the manufacturers of these knock-offs.
Settlement from a lawsuit in 2010 has just recently been received, after DFX Sports and Fitness discovered a group in Taiwan advertising itself as "The Original Powerball Gyro." It was alleged that Nano Second Technology Ltd, or NSD, and Yahigh Ltd worked together, falsely implying a relationship to DFX Sports and Fitness through confusingly similar trademarks, and deceptive marketing and packaging (Case No: CV 10-09176-RSWL-MAN – United States District Court, Ctrl District of CA).
DFX took immediate action against the alleged counterfeiters and sued NSD and Yahigh in federal court. Yahigh Ltd was found liable for infringing upon DFX's intellectual property rights and unfair competition (Case No: CV 10-09176-RSWL-MAN). The California Federal Court awarded DFX Sports and Fitness a large cash settlement in their case against Yahigh. NSD chose to settle out of court.
"We are serious about protecting DFX's portfolio of products and the brand as a whole," Farren Mataele, CEO of DFX Sports and Fitness said, "That means a focus on the fight against counterfeit cases and efforts to educate the public about the realities of counterfeiting." "It's important that consumers understand the difference between authentic and counterfeit product, and unfortunately some do not." Counterfeit DFX Powerballs lead some consumers to believe they just made a bargain purchase, but the low price tag can mean poor quality and reflect badly on the DFX brand.
DFX Sports and Fitness and the federal government are now working together to fight back against the producers of these counterfeit goods, shutting down hundreds of specious product listings. DFX is committed to ensuring consumers receive the best quality products to improve their health.
About DFX Sports and Fitness
Since the late 1970's, DFX has manufactured, patented, and supplied gyroscopic exercisers in the United States. This 30 year process began with the "Dynabee." However, we eventually redesigned the original into our line of Gyro Exercisers. Today, Powerball Gyros such as the Sports Pro and Platinum are used by professionals for Carpal Tunnel, Rehabilitation, and repetitive stress injuries.
Contact
For further inquiries please contact
Robert Paine, Executive Assistant
1144 N. Grove St
Anaheim, CA 92806
Phone: 714.630.0909
Fax: 714.632.5470
Robert(at)mydfx(dot)com