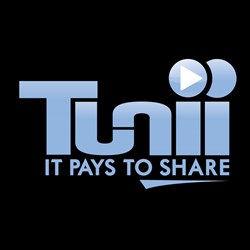 With the new Tunii app, you can play & share their favorite music & videos, discover new music and win rewards!
San Francisco, CA (PRWEB) September 30, 2013
On October 2nd, Tunii plans to unveil the Alpha version of their highly anticipated mobile app at the Vator Splash Show in San Francisco. Far more than just another ordinary music/video player for your smart phone, the Tunii app will be linked to Tunii.com.
You can see the short "How Tunii Works" video here: http://tunii.com/howto
The core of "Team Tunii" consists of Co-Founders CTO Jarred Cundith, CEO Keith Harrison and CFO/Investor William F. Keck. Cundith, "The Hacker," is blazing new technology trails and greatly expanding on the revolutionary platform of Tunii.com by incorporating a social and user friendly entertainment app with Tunii.com's patent-pending crowd-sourcing technology. Harrison, "The Hustler," has secured deals with Tapjoy and a bundling company to rapidly acquire user base, generate add revenue and distribute the new Tunii app with new phones directly through android distributors and manufacturers. Keck, "The Mentor," brings to the table many years of successful technology and Internet experience and is also the architect of Tunii.com and its technology.
"The app will allow users to listen to their favorite songs, watch their favorite videos, discover great new music, create their own play lists and share those play lists to Win Rewards," says Harrison. "Tunii app users will also have the option to follow and share their favorite Tunii.com artists for additional cash and rewards."
Pulling their talents and experience together to create an outstanding and unstoppable team of entrepreneurs, Tunii plans to be a disruptive force and forge ahead into the future of the music and video entertainment industries.
"It's amazing how much interest and business opportunity we have already," Harrison says. "With the technology behind Tunii.com and the integration of the Tunii mobile app, it's easy to see the potential of just how big we can be."
Tunii may be "the new guy on the block" but they are ready to claw and fight their way to the top. Stay tuned for the launch of their new mobile app as they will be offering a free version to both iOS and Android users.
You can register to help Beta Test the Tunii App here: http://tuniiapp.com/beta.jsp
Like Tunii on Facebook: https://www.facebook.com/TuniiMusic
Follow Tunii on Twitter: @Tuniimusic1
See How Tunii Works: http://tunii.com/howto