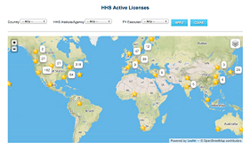 Improving communication is a major component in the overall efforts to increase technology transfer opportunities...
Chicago, IL (PRWEB) September 30, 2013
Promet Source, a Chicago-based interactive agency, announces the recent launch of new functionalities for the Office Technology Transfer (OTT), National Institutes of Health (NIH) website.  Promet was a perfect fit to rebuild the website because of proven design and development practices that can be easily tailored to meet the needs of the government with special attention to security, flexibility and accessibility.  Previous government clients include the US Chamber of Commerce and the SBA. 
When asked about working with technology transfer offices in general, Jay Uhlinger, Promet Source's Director of Products said, "Improving communication is a major component in the overall efforts to increase technology transfer opportunities and to engage with more potential commercial partners. As technology transfer offices and programs across government agencies and research institutions seek ways to develop better web, mobile, and social media tools for this outreach, the necessity to leverage the power and flexibility of open source software solutions such as the Drupal platform will continue to grow and evolve."
Promet Source rebuilt eRMa, a web-based catalogue intended for licensing of unpatented research materials to for-profit companies from the Office of Technology Transfer (OTT). The catalogue was developed to expedite the licensing process for unpatented research materials to for-profit entities.
Promet Source migrated an outdated eRMa website from a Microsoft.NET platform to Drupal. The old site was failing security audits and was not easy for administrators to modify. Additionally, the system needed a maintenance overhaul to improve usability and cost-efficiency. The new eRMa site now has enhanced functionalities (e.g. custom licensing templates) and features (e.g. a licensee dashboard page).
Promet Source contributed highly technical solutions including custom module development and UI/UX optimization for the ecommerce experience to deliver a new site that was more secure and easier to use. Further, Promet updated the website with enhanced functionalities, including LDAP integration, metrics data display, product showcase display, product pipeline display and a licensee locations map.
LDAP (Lightweight Directory Access Protocol) integration was executed to tie the site to the federal government/NIH's centralized authentication system. The new metrics data display gives users a single point of access to Commonly Tracked Technology Transfer Metrics at the NIH Office of Technology Transfer. Users can analyze data (e.g. Licenses in a Fiscal Year by Type of Agreement, Royalty Income by Type) in charts and graphs provided in one convenient page.
The product showcase is a single source of reference for users to read about products that have been developed under licenses from the NIH. The user can filter by product type, Institute/Agency that developed the technology, launch date and approving agency. Users can easily find information regarding a product's use, inventor, features and more.
The product development pipeline display allows users to research product development projects that are in different stages of development. Site visitors can access information about specific treatments, phase of clinical trial, commercial availability, etc. Users can narrow their searches by disease category, treatment type, phase of clinical trial and more.
The "HHS Lights Up the World" map displays licenses and locations on a global map. Users can search active licenses and filter results by country, issuing agency and fiscal year. This feature uses a mapping library that allows users to interactively narrow down to regions of the world to see licensee locations. Promet took this feature a step further by connecting products (if any) associated with the license. This allows for a smooth transition into the product showcase area.
The new website improves efficiency for transferring HHS technologies to for-profit companies so that they can be commercialized. Promet Source values the contributions of NIH and OTT and appreciates the opportunity to help make an impact on commercializing medical research innovations across the globe.
About Promet Source: Founded in 2003, Promet Source is a leading interactive development agency that implements open source tools (specifically Drupal) to deliver high-value web and mobile application development & support. Promet offers a turn-key solution delivered by experts in the field: sprint 0 planning (Agile concept development), design, architecture, development and deployment. After deployment, Promet provides ongoing support & maintenance. Our consultants have deep technical expertise and are recognized as leaders within the Drupal community. Promet serves clients globally across multiple industries-specializing in government, higher education, non-profits, start-ups, healthcare and professional services.