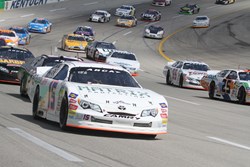 "When we were presented with the sponsorship opportunity with Venturini Motorsports, the decision was a no-brainer," said Yoni Ashurov, President of Matrix Protection.
HALLANDALE BEACH, FL (PRWEB) September 30, 2013
Matrix Protection is proud to announce their newly created professional motorsports advertising campaign which was specifically designed to bolster their marketing reach and enhance their product awareness among millions of brand loyal NASCAR fans coast-to-coast.
Matrix Protection formed a strategic alliance with Nashville, TN based So Good! Entertainment and Venturini Motorsports, long time industry leaders in professional motorsports (NASCAR) to create a highly visible marketing effort to educate the masses and spur the growth of Matrix Protection consumer warranty products.
This multi-tiered platform will utilize traditional race car sponsorship along with at-track activation and strategic business-to-business partnerships to increase company notoriety and sales.
Matrix Protection made its motorsports debut on September 21st at the Kentucky Speedway sponsoring the No.15 Venturini Motorsports – Matrix Protection Toyota driven by NASCAR rookie driver Erik Jones during the inaugural ARCA Racing Series presented by Menards ZLOOP 150 event.
The event which was aired live on FOX Sports 2 (45 Million Households) and replayed the following day on FOX Sports 1 (80 million households) yielded a 20% increase Matrix web site traffic along with an impressive amount of "New Likes" on the company's Facebook page. The event continues to produce residual traffic across all social media outlets.
The departure from traditional advertising methods falls in line with Matrix Protection's commitment to provide a new solution to an old problem; Matrix Protection provides an innovative warranty service that covers virtually every electronic device in the customer's household. Much like its product, the decision to advertise with Venturini Motorsports in the Zloop™ 150 event came as a result of thinking outside the box.
"When we were presented with the sponsorship opportunity with Venturini Motorsports, the decision was a no-brainer. The ability to partner with such a respected organization and reach such a broad audience through our shared passion of racing is what did it for us," said Yoni Ashurov, President of Matrix Protection.
Driver Erik Jones qualified and started the race in the second position provided Matrix Protection high on-track visibility by leading the race early and maintaining favorable track position the entire event. A viable contender the entire race, Jones drove his Matrix Protection sponsored Toyota to a sixth place finish giving Matrix Protection valuable airtime during the nationally televised race.
"As a motor sports company, we strive to be as innovative as possible, so the partnership with Matrix Protection seemed to be a great fit." said Tom Venturini, Marketing Director of Venturini Motorsports. "We appreciate the cutting edge approach that Matrix is taking with their month to month protection plans and look forward to developing a long-term relationship to further enhance their brand identity within professional motorsports," Venturini added.
The partnership between Matrix Protection, So Good! Entertainment and Venturini Motorsports will continue to develop so further marketing activation can be ready for the beginning of the 2014 race season.
ABOUT:
Matrix Protection
Matrix Protection has been one of America's most respected underwritten aftermarket service providers since 2006. Created by industry professionals with superior industry leadership, Matrix Protection's innovative programs provide customers with fixed-rate monthly warranties, with a focus on electronics, home and automotive protection plans.
About Venturini Motorsports
Venturini Motorsports (VMS), fielding cars for over 30-years in the ARCA Racing Series presented by Menards, is one of the premier NASCAR driver development programs in the country. Multiple team championships and consistent on-track success, VMS has evolved into one of the most recognizable names in motorsports. Since 2007, VMS has assisted in the career development of notable NASCAR drivers such as Joey Logano, Justin Allgaier, Ryan Blaney, Alex Bowman, Brian Scott, Kevin Swindell, Miguel Paludo, John Wes Townley, Josh Richards and Johanna Long.