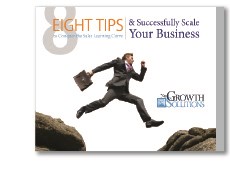 There's no one magic bullet, to avoid becoming "just another statistic," but understanding the premise behind the sales learning curve and adjusting your strategy accordingly is a good first step
Columbus, Ohio (PRWEB) September 28, 2013
NuGrowth Solutions today announced the release of the latest addition to its extensive online library. This new addition is notable as it is the first eGuide to be included in the library. Attractive, informative, and easy to read the guide highlights 8 Tips to Conquer the Sales Learning Curve and Successfully Scale Your Business.
"We are pleased to add this new addition to our already extensive library," said NuGrowth CEO Greg Tillar. "It highlights issues that we have experienced, and methodologies we have used in every early stage company we have worked with. It is valuable reading for any organization looking to scale."
No one starts a business with visions of failure, but it is no secret that many startups never make it. There are numerous reasons for startups' failures, not least of which is a lack of understanding of what was described in a popular Harvard Business Review article as the "Sales Learning Curve."
Some statistics have the startup failure rate as high as 75%.
There's no one magic bullet, to avoid becoming "just another statistic," but understanding the premise behind the sales learning curve and adjusting your strategy accordingly is a good first step.
Geared primarily towards those in the early stages of a new businesses, or in established businesses involved in releasing a new product or service the guide highlights important topics including which metrics are important to watch, and why, ways to "go lean" from a sales and marketing standpoint, when, where and how to make the most of your sales and marketing spend and much more.
Other articles in the NuGrowth library include:

Managing a Sales Territory (Lessons from Baseball)
The Evolution of a Virtual Sales Model
Sales Lessons from John Wooden
Changing the Game with Marketing Automation
5 Tips for Building a Successful Sales Organization
And much more
The NuGrowth Library can be accessed by clicking this link.
About NuGrowth Solutions
NuGrowth Solutions helps organizations grow their businesses with pace and purpose. We build and lead results–oriented, "sales as a service" business development teams and support them with exceptional lead gen marketing—utilizing our propriety territory management methodology to generate leads, build pipelines and increase sales for our clients. For more information, please visit http://www.nugrowth.com.