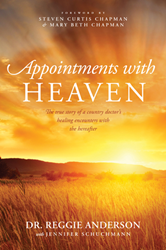 I've glimpsed colors, sights, and sounds more intense than anything I've ever experienced in this world.
Carol Stream, IL (PRWEB) September 27, 2013
When Dr. Reggie Anderson of Kingston Springs, Tennessee, is present at the bedside of a dying patient, something unusual happens.
Sometimes, as Dr. Anderson sits vigil, holding his patient's hand, he is able to experience what they see and feel during their final moments on earth. According to this award-winning country doctor, the news from the next world is very good indeed.
The physician known as a "midwife to souls" shares glimpses of the afterlife in his autobiography, Appointments with Heaven, now available from Tyndale Momentum. Books about heaven by those who claim to have been there have populated the bestseller lists for years, but Reggie Anderson has had no near-death experiences of his own. Instead, he has attended countless patients in their last moments and in the process says he has glimpsed eternity.
Anderson is a medical doctor, not a chaplain, and until now has mostly kept his visions to himself.
"On many occasions," states Anderson, "God has allowed me to peer into heaven's entryway, where I watched my patients slip into the next world. I've glimpsed colors, sights, and sounds more intense than anything I've ever experienced in this world. I've inhaled the scents of lilac and citrus, freshly carved cedar, and the aroma of baking bread."
"Sometimes, I've even witnessed patients leave this world and come back," he comments. "They've shared their stories with me and reminded me of an experience I had where God allowed me to step into heaven's foyer when I didn't even believe he was real."
With more than 25 years of emergency room and family practice experience, Anderson has been exposed to nearly every kind of death possible, including murders, suicides, death from old age, and babies who died at birth. As a teenager, he endured the horrific massacre of six members of his extended family by escaped criminals, leading Anderson to reject the faith in which he was raised and begin his medical studies as an atheist.
More recently, Anderson and his wife, Karen, were among the first to respond when Grammy Award–winning musician Steven Curtis Chapman's five-year-old daughter, Maria, was tragically killed in a freak accident in the Chapmans' driveway. The Anderson farm became a place of solace and healing for the Chapman family, whose son Caleb is married to Anderson's daughter Julia.
"I've had to face some hard questions in my personal life and my medical practice," Anderson writes today. "Is there more to life than what we've experienced? What kind of God would allow such atrocities to happen to those who loved and served him? Do I believe enough in the reality of heaven to let it change me?"
Reggie Anderson, MD, is available for national interviews to promote the September 2013 release of Appointments with Heaven. Contact Maggie Rowe at maggierowe(at)tyndale(dot)com or (630) 784-5333 to schedule an interview, to obtain an excerpt of the book, or to learn more.