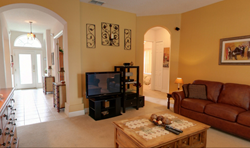 "Aplusvacationhomes is amazing, my first time in Florida let alone Orlando and I had a blast! Universal Studios is a fun place even for adults I highly recommend"-Brandy Thompson
Orlando, FL (PRWEB) September 27, 2013
A Plus Vacation Homes in Orlando, Florida have downtown vacation homes ready for autumn tourists. Vacationers look for Orlando homes to rent near the events in downtown Orlando, Disney World and Sea World.
Downtown events in October
Blocktoberfest comes to Wall Street Plaza to serve beer, brats and more beer to festival-goers. Guests pay one time for unlimited beer starting at 8 a.m. and ending at 10 p.m.
Also coming to downtown Orlando this fall, the Cobb Plaza Cinema Café hosts the Orlando Film Festival. More than 130 independent films will play before audiences this year. The filmmakers will answer questions after each screening.
Disney World and Epcot food experiences
Tourists headed to Disney World choosing to stay in a Disney rental home will enjoy the Downtown Disney Foodtopia. Every evening from 5:30 p.m. to 7:30 p.m., guests eat at one of seven restaurants. Music and food combine to make Foodtopia a fun event.
Epcot's Food and Wine Festival that began in September continues through October for a taste of world-class food from all over the world. The Epcot event also features 3-D tours of other countries and a hang glider trip over California.
Universal Orlando in October
Vacation rentals Orlando offers near Universal Studios make getting to their annual Halloween Horror Nights easy. The special Horror Nights began in September and will continue through November. The studio promises to scare visitors with the spookiest theme so far. The food served during the Horror Nights even comes inspired by Halloween.
Finding a Orlando Home for Rent
During the fall and winter seasons, activities throughout Florida attract tourists who find rental homes more comfortable than traditional hotels. The homes come furnished with full kitchens and a lot of room for large groups.
Advantages of vacation rentals Orlando tourists love
Rental homes central to theme parks and to downtown Orlando make getting to and from activities faster. Returning to a home after a day's adventures makes guests feel more relaxed and they often return for their next vacation experience.
Luxury Orlando homes for rent near Disney World often sit next to golf courses in gated communities. Heated swimming pools and spas come with many rental homes, as well. Aplusvacationhomes agents inspect each rental before the next visitors arrive for cleanliness.
Staying downtown
Downtown Orlando rental properties occupy high-rise luxury living spaces. Guests get access to fitness rooms, swimming pools, restaurants, bars, maid services, room service and more in the suites available.
Fall events include a lot of food and scary adventures with luxury homes to relax in afterward. Winter comes next with Santa and more surprises for Orlando visitors.