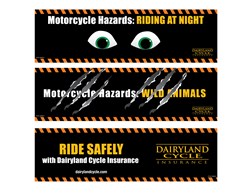 Now that social media is here, it brings new opportunities for us to share information with riders and motorcycle enthusiasts across the country and for them to share what they're doing with us. - Vinnie Garth, Associate Director of Sales
Stevens Point, WI (PRWEB) September 30, 2013
Dairyland Cycle®, a leader in the motorcycle insurance industry, has arrived on all major social media platforms:

Facebook – Access industry news, stay up-to-date on our products and current events. Visitors can also access valuable articles on motorcycle safety and maintenance.
Goggle+ – Share updates and hear what others have to say with Google+. Got great photos of your latest ride? Share them with others in your Circle.
YouTube – Watch high-quality videos including those featuring motorcycles from the National Motorcycle Museum in Anamosa, Iowa. Dairyland Cycle® features new videos all the time so check back often.
LinkedIn – Pose questions to the insurance professionals at Dairyland Cycle® on this worldwide network of more than 200 million users. 
Twitter – Follow breaking news, informative articles, motorcycle videos, and more. Be informed right up to the minute. 
"Tight-knit motorcycle communities used to have to rely on word-of-mouth. Now that social media is here, it brings new opportunities for us to share information with riders and motorcycle enthusiasts across the country and for them to share what they're doing with us," said Vinnie Garth, Associate Director of Sales. "It's a much more powerful communication tool because of its unlimited potential. We're excited to see where it takes us in the future."
Dairyland Cycle® looks forward to reaching out through social media channels. For more information about Dairyland Cycle®, contact Vinnie Garth at vinnie(dot)garth(at)sentry(dot)com. To read more about Dairyland Cycle®, go to dairylandinsurance.com.
About Dairyland Cycle®
Dairyland Cycle® is committed to educating the motorcycle community about safety on the open road. Getting motorcycle insurance is only one of many precautions that should be taken before you're ready to ride. Making sure that you have the proper training, safety gear, theft protection and license are all extremely important elements of a safe riding experience. Dairyland Cycle® has been insuring bikers since 1966. Dairyland Cycle® offers coverage for all brands of motorcycles, including Harley-Davidson, Honda, Suzuki, Yamaha, Kawasaki, BMW, Triumph and many more. Scooters and mopeds are also included in Dairyland Cycle's offerings.
Dairyland Cycle® property and casualty coverages are underwritten by Dairyland Insurance Company or Patriot General Insurance Company, Stevens Point, WI. In Texas, Dairyland Cycle® property and casualty coverages are underwritten by Dairyland County Mutual Company of Texas, Austin, TX. In California, Dairyland Cycle® property and casualty coverages are underwritten by Viking Insurance Company of Wisconsin, Stevens Point, WI. Policies, coverages, benefits, and discounts are not available in all states. See your policy for complete coverage details.