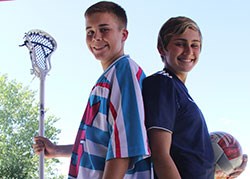 I love school, because it's Oaks and to me, Oaks is such a special place. Everybody is so welcoming and genuine.
Westlake Village, CA (PRWEB) September 28, 2013
Taylor and Jack Hein are both student athletes from Fruita, CO, that attend Oaks Christian Online High School (OCO). Taylor is a freshman and competitive soccer player that has recently been invited to the October two-day tryouts for the Colorado Youth-14 Olympic Development Program. A team will be selected and train together to represent Colorado in a regional competition. From there, selections will be made for a national team. The event is by invitation only, with a limited number of players selected to attend tryouts. Taylor plays for Club Fire FC and at 14 is playing up three years for a U-17 premier club team. With her busy travel schedule, Taylor has enjoyed homeschooling online. She says, "I love school because it's Oaks, and to me, Oaks is such a special place. Everybody is so welcoming and genuine."
Her older brother Jack Hein, a sophomore, also attends OCO and plays competitive lacrosse on the Altitude Stickness travel team in the Youth-17 Gold bracket. The first-year program team won the Colorado Cup in late June and has been invited to the Nationals to be held in Florida after the first of the year. During the off-season, Jack will play for Grand Junction High School's team, who are up and coming in the state and have all-Americans on the coaching staff. With all of Jack's travel opportunities this year, he is also grateful for attending online high school classes. This is Jack's second year with OCO, and he finds the other students to be very genuine. "Students joke around in the live sessions, and when they ask you how you're doing, they really want to know," he says. Both Jack and his sister, Taylor, enjoy the strong sense of community at OCO.
Mom, Christi Hein, also is involved with OCO. Christi was one of the first group of teachers of the English department when Oaks Christian School started in Westlake Village, CA in 2000. Her family now lives in Colorado and Christi teaches English at Colorado Mesa University. She was recently asked by OCO to work as a subject matter expert and AP English Language and Composition teacher at the online high school, where she brings a wealth of teaching experience to the job. "I was a little reluctant to teach online because I was worried that I wouldn't be able to connect with my students," she says. "I find that I am almost closer to the students, in a sense, and working with them live, online, is the highlight of my week. I am excited to spend time with my family and be a part of the Oaks family once again; it's the most amazing experience ever."
The main campus of Oaks Christian School in Westlake Village, CA opened in the fall of 2000 and Oaks Christian Online School (OCO) opened for full-time, online high school students in the fall of 2011. The online school provides a rigorous and challenging college preparatory education for high school students all around the world in a Christian environment. Oaks Christian Online School continues to enroll part-time and full-time students throughout the school year and regularly hosts information sessions on its main campus – 31749 La Tienda Drive, Westlake Village, CA 91362, as well as virtual information sessions for prospective student families. Interested students can visit the website http://online.oakschristian.org to R.S.V.P.
For additional information about Oaks Christian Online School, its courses, curriculum, admissions or application process, please visit http://online.oakschristian.org, call 855.462.6257, or contact a school representative at online(at)oakschristian(dot)org.