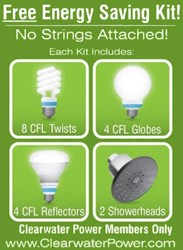 Energy saving kits are a great tool to engage customers.
Fairview, OR (PRWEB) September 30, 2013
In July 2013, Clearwater Power Company (CPC) set out to reduce energy costs by providing free energy kits to their residential consumers. "Energy saving kits are a great tool to engage customers. Electric co-op members actively participate in energy savings and see real results at home," states Rick Hall, President and CEO, of Ecotone Products. Established in 1937, Clearwater is a member owned electric co-op utility serving 11 counties that span three states including: Idaho, Washington and Oregon. CPC is responsible for providing power to over 8,000 residential households.
Clearwater Power Company approached this energy conservation kit with the slogan, "Free Conservation Kit; No Strings Attached." Jeff Marshall, Communications Specialist, of Clearwater Power says, "We preferred people to sign up online, but wanted them to feel comfortable signing up 'the old-fashioned way.' So we designed a classic 'clip-out-coupon' form for people to use." CPC provided three channels for member participation: call-in order, mail-in order and online order. They also used their monthly magazine, bill inserts and facebook to promote the program. Ecotone Products contributed by building and hosting a simple web site where members could request an energy savings kit to be sent to their home. With these communication channels, CPC was able to achieve 23% member participation in the program. "We were more than satisfied with those results and felt that the campaign offered our members not only value, but another example of being able to rely on their co-op to provide products and services in a straightforward, 'no strings attached' way," continues Marshall.
When producing conservation kits for utilities, Ecotone Products employs their Pick, Pack 'N Ship model. From the start, a dedicated Account Specialist is assigned to the project to assist Clearwater Power Company through to project completion. First, CPC "picked" products to include in their energy conservation kit. For this project, they selected: (2) 15-watt dimmable Compact Fluorescent Lamps (CFL) twisters, (2) 26-watt dimmable CFL twisters, (4) CFL twisters, (4) CFL globes, (4) CFL reflectors and (2) high performance shower heads. All of these products were then "packed" in an eco-friendly brown cardboard box, which is better for the environment than a white, bleached box. Then, Ecotone Products "shipped" all of the boxes directly to each individual household from their warehouse in Fairview, OR. Customers of Ecotone Products have the freedom to create any custom kit configuration for the utility, regardless of brand. Customization of the box and inserted marketing materials are included.
Approximate annual resource savings for Clearwater Power Company and its members are expected to be 1.25 million kWh and over 10 million gallons of water, enough resources to provide electricity and water to 120-150 households annually. The ENERGY STAR® qualified compact fluorescent lamps provide electric savings of up to 75% compared to their incandescent equivalents. High performance WaterSense® shower heads can reduce water consumption by up to 40% compared to standard products, while providing superb water pressure, consistent flow rate, and self-cleansing.
Ecotone Products provided a quick turnaround on this kit project, which was completed in less than 6 weeks. The first batch of energy efficiency kits was assembled and shipped on the third week of August, 2013. The second batch was shipped a month later on the third week of September 2013. This concluded the Clearwater Power Company Kit project. Bob Pierce, Manager of Member Services, of Clearwater Power Company, says, "The staff at Ecotone Products was fast and responsive. We had a short time line and we weren't sure how many members would order energy efficiency kits. Ecotone Products not only handled those challenges with ease, they set up an online sign-up site for us to link to, kept in touch during the project and provided all the reporting required by Bonneville Power Administration (BPA). They made it easy."
About Ecotone Products
Ecotone Products, LLC is a wholly owned subsidiary of General Pacific, Inc. Ecotone Products offers products and services that optimize resources while maintaining high performance standards. The commitment to quality extends through their vast product line, which includes many energy conscious manufacturers. Ecotone Products has a focus of providing quality product solutions and support that assists our customers in reaching their conservation goals.