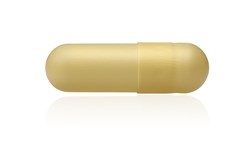 Morristown, NJ (PRWEB) September 26, 2013
Capsugel, a global leader in innovative dosage forms and solutions for the healthcare industry, announced today that the results of its 2013 scintigraphic in vivo study of its DRcaps™ capsules definitively documents that the specially formulated acid-resistant hydroxypropyl methylcellulose (HPMC) capsules are an "excellent choice" for delayed delivery of acid-sensitive ingredients like probiotics and enzymes.
Data and images empirically demonstrate the capsules' effective protection from early activation caused by stomach acids and, for a majority of study subjects, complete release in intestines where products such as probiotics and enzymes work best. More specifically, the capsules began release in a mean time of 52 minutes after ingestion and completely released the ingredients in a mean time of 72 minutes after ingestion.
"The results from this human clinical study provide scientific evidence of DRcaps capsules' acid-resistant and delayed-release performance to give confidence that DRcaps capsules are an excellent choice for delivery of acid-sensitive ingredients," said Dr. Keith Hutchison, Senior Vice President of R&D at Capsugel.
The study was designed to investigate the in vivo behavior of DRcaps using a scintigraphic method to assess the gastrointestinal transit and release of the contents from capsules based on the images obtained. Gamma scintigraphy is an established technique in which a radio label is swallowed and the disposition in the gut is photographed externally over time.
The scintigraphic study revealed that the capsules actually began releasing at 52 minutes when they were about to leave the stomach. "That is 45 minutes later than an immediate release capsule and means that the contents of the capsules would often be released in the intestines – where probiotics and enzyme ingredients are most effective," Dr. Hutchison elaborated.
DRcaps capsules are designed with unique polymer properties to slow down capsule opening after swallowing without adding synthetic chemicals, solvents, or other coating ingredients. "The special release properties built into the capsules provide the choice of a vegetarian product for fast product launches, and still provide acid-protection and delayed release," Dr. Hutchison concluded.
About Capsugel
Capsugel is a global leader in providing innovative, high-quality dosage forms and solutions for the health care industry. With more than 100 years of experience, we provide a comprehensive array of advanced solutions to pharmaceutical and nutritional customers from formulation through clinical and commercial supply. From hard gelatin, liquid-filled and vegetarian capsules, to product development and manufacturing services, we help our customers improve their product profiles and accelerate development and commercialization timelines. Capsugel is headquartered in Morristown, NJ, employs 2,900 people, has 12 manufacturing and R&D facilities across three continents and serves more than 4,000 customers in over a 100 countries. For additional information, please visit http://www.capsugel.com.
###
For more information, please contact: Missy Lowery at 864-942-3063 or missy.lowery(at)capsugel(dot)com or Jacqueline Savaiano at 505-474-5836 or jackiesav60(at)gmail(dot)com.