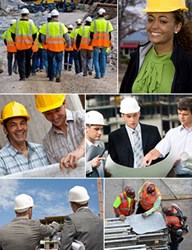 I check the site regularly and it seems like every time I do one job has been filled and two more are listed in its place. I'm confident that I will be able to find what I'm looking for on Construction Connection.
West Palm Beach, Florida (PRWEB) September 30, 2013
Jim Cardaman, owner of Florida-based construction company Alligator Construction Consultants, LLC, has been working in the construction industry for over 35 years. His expertise lies in heavy highway construction, and he has managed some of the largest projects in the history of the Florida Department of Transportation. Recently, Cardaman started looking for a new full time position in his field as a General Manager or Director of Operations of large heavy highway general contracting projects.
Cardaman says he stumbled upon ConstructionConnection.com while searching jobs online, and the website quickly jumped out at him. He explains, "I'd been looking at other job boards and a lot of them, not just two or three, are very vague. The amount of accuracy and detail on the individual listings on Construction Connection immediately made the site really stand out at me."
This was the goal of founders of the construction networking and hiring website Suzanne Breistol and Kent Leighton: give people the information they need to find the jobs that fit their specific criteria. As long time veterans of the construction industry themselves, both Breistol and Leighton know how necessary it is to lay out the important details upfront.
"I've seen postings on other sites for a project manager or an administrative role, but it won't say what type of projects they would be working on. There are a lot of similar job titles across different sectors of the construction industry and just because I'm qualified for one doesn't necessarily mean I'm qualified for all of them. With Construction Connection, the level of detail on each job post doesn't leave you with all of these questions. They get straight to the bottom line."
Breistol and Leighton explain that getting to the "bottom line" is not only to help individuals find the jobs that meet their needs, but it is also to help construction companies find talented candidates who are qualified and serious about the positions they apply to. The industry is turning around after years of high unemployment, and the Construction Connection team wants to help fill these open positions as efficiently as possible. More quality matches between company and individual means more projects can get done, which bodes well for the construction industry and the US economy.
"In 2006, before the bubble burst, the Florida DOT had a budget around $1.4 billion," says Cardaman. "Now, it's up nearly 15% at around $1.6 billion. It seems like employers, up until recently, have been completing projects, but they have had to make do with the budget and employees they already had. As a result, unemployment remained high. But in the past six months, I've seen a lot more companies looking for new talent and hiring new employees. It's definitely turning around."
Similar trends have been seen on Construction Connection. Over the past year the number of available construction jobs posted on the site has more than doubled, and new listings go up all the time.
"I haven't found the perfect job just yet, but using Construction Connection for just one week I've made more progress than searching other sites for two or three months. I check the site regularly, and it seems like every time I do one job has been filled and two more are listed in its place. I'm confident that I will be able to find what I'm looking for on Construction Connection."
About Construction Connection
ConstructionConnection.com was created out of a need for a more effective and streamlined way for construction industry professionals to get matched with the right industry jobs and with the right industry opportunities. The founders of Construction Connection listened to both company and individuals' dissatisfaction with the traditional job boards, the paid resume blasts, the overpriced resume services and overall lack of sympathy toward the individual candidate. They also listened to the dissatisfaction from companies who post jobs only to get many irrelevant results or have to purchase high priced ads to showcase their company. Construction Connection is a patent-pending, one-of-a- kind profile creating / match-making system. The system delivers effective results. Construction Connection saves time, money and aggravation by matching people to people, people to companies, companies to people, and company to company.