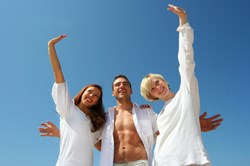 Therapists at Drug Rehab Center Union will design a specific detox plan for each patient.
Union, NJ (PRWEB) September 27, 2013
Drug detoxification is one of the most crucial stages of alcohol and drug rehab. It can also be one of the most intimidating. But without it, no addict can successfully complete rehab. Drug Rehab Center Union is implementing the newest methods of drug detox to give patients are more safe and comfortable experience.
Drug Rehab Center Union counselor Roger D. is the head of the facility's detox department. In the last five years, he's seen a rise in success rates from addicts who've completed the program.
"I think the perceptions of detox have changed in the last few years," Roger said. "A lot of people go into it with preconceived notions based on what they've seen from TV or the movies."
Detox is the process of flushing out harmful drugs and chemicals from the body's system. Many addicts fear the symptoms from severe withdrawal. Although it's an inevitable side effect, new techniques are now helping patients cope with the effects. Each year, new methods are developed to make detox a more safe and efficient procedure.
"Our detox procedures are updated every year," Roger said. "In the last five years, we've come a long way in increasing the standard of patient comfort."
Therapists at Drug Rehab Center Union will design a specific detox plan for each patient. There are several different detox procedures available to patients, depending on the addiction. Patients who are addicted to marijuana will receive a different type of detox than those addicted to harder drugs, such as cocaine or heroin. As a patient undergoes detox, they will be constantly monitored by clinicians in case of any complications.
"It's important to let patients know they're not alone." Roger said. "There will always be someone assisting patients during every step of the process."
The New Jersey Department of Health evaluates every treatment center based on the effectiveness of the facility's curriculum, patient satisfaction and the competency level among staff and administrators. For the third consecutive year, Drug Rehab Center Union rates among the top 5 percent of substance abuse facilities in the state.
About Drug Rehab Union:
Drug Rehab Center Union specializes in treating alcohol and drug addiction. Our dedicated medical staff and addiction specialists can help you achieve sobriety. If you or someone you know is suffering from an addiction, call Drug Rehab Center Union at (908) 206-4770 or email mail(at)drugrehab-union(dot)com for more information.