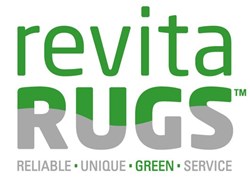 It is our job to guide the consumer and help them with the best solution for the care and maintenance of their newly purchased rugs. - Azita Goldman, VP
South Hackensack, NJ (PRWEB) September 30, 2013
RevitaRUGS, renowned for its eco-friendly cleaning, repairing and restoring of valuable rugs, will once again have a presence at the most talked about Market Week event: The ninth annual NYICS "New Age of the Artisan Carpet" on October 6 - 8 at the Metropolitan Pavilion 125 West 18th Street, NY, NY 10011.
"It is our job to guide the consumer and help them with the best solution for the care and maintenance of their newly purchased rugs," says Azita Goldman, VP Business Development at revitaRUGS. "Last year, we got to highlight our viscose and natural fiber rug cleaning methods for all of the exhibitors and the attendees. They will be equally impressed this time, when they see how we have anticipated the cleaning challenges that may arise with the variety of new synthetic materials being introduced into the rug industry."
NYICS is the only stand-alone trade show during Market Week. With over 40 top international vendors, the event is just minutes from the showrooms of many Metro Market dealers and Manhattan's traditional carpet district.
More information about revitaRUGS can be found at http://revitaRUGS.com.
About revitaRUGS
RevitaRUGS started in Italy, where handmade rugs are the staple of every stylish home. In order to preserve the fine quality of these rugs and insure the health and safety of their owners, the company's founder, Hamid Zarei, developed a new way to care for fine and antique rugs. Utilizing an innovative technology that restores life and revitalizes the rugs with purified soft water and pure organic additives, Zarei's professional rug cleaning method even handles the most delicate silk, viscose, natural fibers, Persians, and Orientals with ease. RevitaRUGS has been servicing the New York Metro area, receiving excellent praises from the rug merchants and consumers alike. RevitaRUGS not only cleans but revitalizes and restores rugs, purging them of dirt, bacteria, dust mites, allergens, pet odors, and chemicals, while removing the toxic residue left by previous rug cleaners.