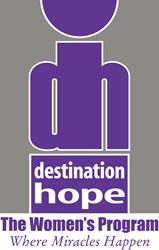 Gender specific treatment allows us to offer several pathways to recovery.
Fort Lauderdale, Florida (PRWEB) September 30, 2013
Drug rehab for women may sound like a marketing ploy, but this year's Annual National Recovery Month highlights that everyone's pathway to recovery is different and their treatment should be too. Biological and cultural differences between gender means that men and women handle addiction differently and should be treated differently and thus create their own pathways to wellness, this year's Recovery Month theme. Gender specific treatment and drug specific treatment has taken off in the last several years. In response to the trend, Destination Hope, a nationally recognized substance abuse facility opened a women's only treatment program, called Destination Hope: The Women's Program.
"September is Recovery Month, and this year's theme is Pathways to Wellness," said Ben Brafman, the founder of both Destination Hope and Destination Hope: The Women's Program. "We have seen evidence that gender-specific treatment, such as specific alcohol or drug rehab for women programs, allows us to offer several pathways to recovery or wellness. By treating a woman's overall health during treatment we're able to offer her a specialized treatment plan to fit her needs."
Gender-specific treatment is catching on as evidence based research underscores the need to offer clients various pathways to recovery and wellness. At the September 2013 "Addiction and Recovery for Women: Celebrating Empowerment and Renewal" conference hosted by the Husson Institute for Continuing Health Care Education behavioral health professionals explained that women tend to become sicker from addiction, and at a more rapid pace than men. Women are more likely to seek treatment of their own accord, whereas men tend to be encouraged by a family member. Women who have children may also have a more difficult time with addiction, because of the social stigma surrounding women and addiction. According to experts, all of these facts underscore the need for specific treatment programs like drug rehab for women or drug rehab for families.
"Women with an addiction aren't just battling drugs or alcohol," said Brafman, a 20-year veteran of the behavioral health industry. "There are a whole host of other issues that tie into it, like abuse, fear, co-dependency, anxiety, or even depression. It's so important to treat all of these issues, because if we don't there is no way for a woman to move forward. We are proud that this year's Recovery Month theme recognizes that there are multiple pathways to wellness and whether you're a man or a woman there is a pathway for you."
Gender-specific treatment can be effective, but like all long-term treatment programs it does take time. Women should commit to an alcohol or drug rehab treatment program from start to finish, and may even need to transition to a part-time program after that. Ongoing support is a key factor in avoiding relapse, because addiction is not something to be cured but rather to be managed.
"Many women are living with a dual diagnosis," explained Brafman. "Where they have a mental health disorder along with their addiction. We don't know why this seems to affect women so strongly, but intimate, gender-specific treatment can be effective. Both disorders need to be treated for a woman to move forward with her recovery. Overcoming an addiction is often just one part of finding total wellness."
###
Destination Hope: The Women's Program is a full service addiction, drug, alcohol and dual diagnosis treatment facility in Florida for women suffering from substance abuse and mental health issues. Treatment programs include: drug rehab, alcohol rehab, outpatient rehab, dual diagnosis therapy, family therapy programs, prescription drug rehab aftercare and women's health programs to treat depression, anxiety and eating disorders. Destination Hope: The Women's Program and its partner program, Destination Hope, provide gender specific therapy in an intimate treatment environment. For more information on the center or substance abuse and addiction treatment, please go to http://www.womensdrugrehab.com.