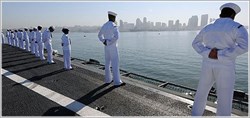 San Diego, California (PRWEB) September 26, 2013
The San Diego military divorce lawyers at the Men's Legal Center have been representing members of the military in legal matters involving divorce, child custody, child support, spousal support and property division among other issues for more than 20 years. Attorneys in the firm have served in the military with distinction and they provide a unique perspective and level of insight into these matters. Given this level of knowledge, the attorneys at the firm continue to remain up-to-date with studies that are published that relate to the issue of military divorce. The attorneys have recently reviewed a study that was released by the RAND Corporation and they would like to share those results with the general public.
The study entitled, "Lengthy Military Deployments Increase Divorce Risk for U.S. Enlisted Service Members" was released on September 3, 2013. Specifically, the researchers looked at married couples who were married before September 11, 2001 and those who were married after that date and who had one spouse deployed either to Iraq or to Afghanistan for a period of at least 12 months.
The study concluded that the couples that were married before 9/11, and who saw one spouse deployed in one of those two countries for at least 12 months were 28 percent more likely to pursue a divorce than couples who were married after 9/11. The study draws its data from an analysis of 462,444 enlisted service members who married while serving in the military from March 1999 to June 2008. In addition, 97 percent of those divorces were sought, after the deployed spouse returned to the United States.
"Those who married soldiers after 9/11 most likely had a better idea of what risks were involved than the people who were married before that terrible day," said Craig Candelore, the founding attorney at the Men's Legal Center and retired US Army Colonel. "However, military life and the realities attached to it can bring about a strain on any marriage, and military divorces can involve technicalities and standards that are not present in civilian settings," Candelore added.
About the Men's Legal Center
The Men's Legal Center is a law firm comprised of San Diego divorce lawyers who have been representing clients who have been facing California family law issues that include divorce, support controversies, property division questions and custody challenges. The firm also has attorneys on-hand who have extensive military experience and therefore provide representation to those who face military divorce issues and other family law situations while they are members of the military.