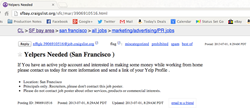 Reno, NV (PRWEB) September 27, 2013
Most people think of the internet as a useful resource, with the answer to any question just a query away. But there is a seedy underbelly, much like the backroom brothels in Vegas nobody talks about, it's the money making side of the internet, where anything can be had -- for a price.
According to the Sept 23 press release from the New York State Attorney General Eric T. Schneiderman, they have just completed a year long sting, "Operation Clean Turf," aimed squarely at protecting consumers from fraudulent reviews, and the shady companies that sell them. Either by elevating the ranking of a bad business, or lowering the ranking of a good one. A quick peek at Fiverr.com reveals dozens of people who will happily create fake reviews and testimonials for only $5.
The company at the forefront of the fake debate is Yelp. According to a report on MarketWatch, Yelp admits that 20-25% of the reviews on it's site are fake, but claims that their review filter will weed out fraudulent reviews and even slap a badge of dishonor on businesses if Yelp deems the business has been buying fake reviews. And that's a problem.
Forums like Yelp-Sucks are full of stories from business that claim they have been victimized by fake negative reviews. One forum writer claimed to have been hired by a Yelp salesperson to write bad reviews and then remove them once the business signed up for advertising. When asked for proof or copies of emails, the line went dead.
ABC News just reported Yelp's newest fraud fighting tactic: filing lawsuits against one business it claims used fake reviews (a business that had won a suit against Yelp recently and garnered the company bad press). With Operation Clean Turf and other sting operations designed to weed out wrong-do'ers, the process of taking down a competitor just got easier.
A little background on the idea of stealthy sabotage:
There used to be an easy way to get rid of a negative Google result: buy a bunch of really bad, slimy, cheap backlinks for the site and viola, it vanished, slapped by Google for violating their rule to not attempt to manipulate the rankings. It became so abused by competitors and reputation restoration companies that Google now allows business owners to verify their backlinks to protect them from unethical business practices.
In contrast, Yelp doesn't have the bandwidth to deal with fake/defamatory reviews. That will make it easier for competitors to destroy the competition. All a competitor need do is buy reviews and have them posted. And the more easily recognizably fake the better. With no way to prove who purchased the fake reviews, business are left at risk.
Consumer trust in user-generated reviews is diminishing. A recent study by Maritz Research showed less than 60% of consumers trust online reviews. A new survey from Consumer Reports to determine how to improve those figures determined trust comes down to how the sites gather the reviews and compile the ratings.
There is only one solution: move away from the anonymous reviews with no context and toward friend to friend word of mouth, like upstart FlypList. The first online review site to put context back into the equation, it makes two more differentiation: the site only allows positive reviews, and you will see your friends reviews first.
FlypList opens the doors for owners to register their business and solicit reviews from their real customers. With no right to privacy, no anonymous reviews, the recommendations on the site will naturally eliminate fake reviews.
To demo the business side of FlypList, go to http://business.flyplist.com.
Adryenn Ashley is available by phone, remote, local to Reno, NV, or nationally by arrangement.