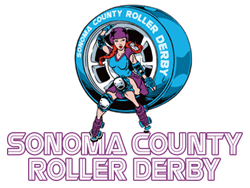 The league and its skater's are so excited to bring our sport's eclectic mix of athleticism and entertainment to this new location. Our fans made us what we are... - SCRD spokesperson Devon Brown, a.k.a, Dixie Doesit
Sonoma, CA (PRWEB) September 26, 2013
For one of the final bouts of the roller derby season, Sonoma County Roller Derby's (SCRD) North Bay Bruisers will be rolling into the Mt. Everest Gymnasium at Sonoma State University for a roller derby bout with Tulare Kings Derby Girls on Oct. 5. While the SSU gym offers a balcony for over-head perspective of the event, this bout will still provide the intimate "suicide seating" near the track for those daring to get a better view of the fast-paced action. Presale tickets up to one day prior to the event are $5 for seniors and children, $10 for general admission and $20 for Front Row VIP "suicide seating" at http://www.brownpapertickets.com/event/463824. Any tickets left on game day will be available at $5 more than presale prices.
"The league and its skater's are so excited to bring our sport's eclectic mix of athleticism and entertainment to this new location," said SCRD spokesperson Devon Brown, a.k.a, Dixie Doesit. "Our fans made us what we are; we know we'd be nothing with out them, so their happiness is paramount to us. We're delighted to invite them to this larger venue that is more accessible to wider demographic and has lots of perks."
A rock-n-roll band with old-school punk influences, "The Connies," will play as half-time entertainment at the bout.
The Sonoma County Roller Derby League is selling tickets online using Brown Paper Tickets is a Not-Just-for-Profit ticketing company, which makes building communities a part of its business model, donating 5 percent of profits from each ticket sale to nonprofits in the category of each ticket-buyer's choice.
At the venue, fans will find beer & wine options priced from $5 in addition to a variety of non-alcoholic drinks and food concessions. For more information about the Sonoma County Roller Derby League, go to http://www.sonomacountyrollerderby.org.
###
EDITOR'S NOTE: PLEASE CONTACT BUFFY SCHAEZLEIN TO REQUEST A MEDIA PASS TO THIS EVENT.
ABOUT BROWN PAPER TICKETS: (http://www.BrownPaperTickets.ca) the world's only Not-Just-For-Profit ticketing company creates stronger communities through events, donations and a business model that prioritizes people over profit margin. The company offers the most-customizable ticketing and event registration tools, donates 5 percent to causes in the category of each ticket buyers choice, pays employees a week's salary each year to work for nonprofits, and employs a team of "Doers" to build healthy communities. The company is the number one choice for roller derby leagues globally, and supports roller derby teams with donations of promotional, organizational and community service assistance.