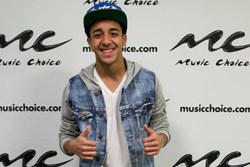 (PRWEB) September 26, 2013
Music Choice continues its Hispanic Heritage month celebration and brings to life its Take Back Your Music campaign with a partnership with Coastal Sports' Coach Joe Hohn to present "Bouncin'2Beats" on Friday, September 27, 2013. The event will take place from 6:30-9:30pm at Coastal Sports, 22 Madison Road, Fairfield, New Jersey. The inaugural program is a free youth entertainment and sports event that emphasizes two passion points for young people - sports and music. The mission is to encourage success by exposing them to the vanguards of both industries.
The 80+ attendees (ranging from 13-17 years of age) will participate in various sports and music mini-stations and receive encouragement and tips from athletes, artists and industry professionals including Miguelito (Singer), Willie Colon (Offensive Guard NY Jets) Jay Fiedler (former QB Miami Dolphins/NY Jets), Monte Barrett (former WBC Heavy Weight Champ), Oral Bullen (former LA Galaxy Soccer player) Tim Ohlbrecht (Philadelphia 76ers), Coastal Sports' Coach Joe Hohn and more!
Sessions include: Soccer, Basketball, Music, and Multimedia. Music Choice will conduct media stations for music and multimedia enabling participants to learn about the music network, upload user generated videos to appear on TV, and interact with the new Musicchoice.com web-site and aps. Coastal Sports will implement sports oriented stations including ones that focus on soccer and basketball.
For more information log on to http://www.musicchoice.com.