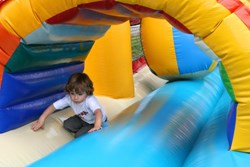 Once you give us a single opportunity to service your insurance needs, we will earn your business for a lifetime
(PRWEB) September 27, 2013
Insuremyjumper.com is the original website that Liberty United has introduced to the inflatable amusement industry years ago. It has been providing insurance for moonwalks to hundreds of satisfied clientele every year, a long list of testimonials by current insured customers truly speaks for itself. In a sense, they have revolutionized the process of obtaining these hard to find insurance programs; made it simpler to understand, easier to access, and more feasible to secure. Not to mention the individualized, above and beyond service that is provided throughout the policy period. This is the reason they are rapidly growing into a household name among the specialty insurance seeking community. So from here on out, acquiring specialty insurance for the amusement industry should no longer be a pain in the neck, thanks to the friendly staff at insuremyjumper.com, it is nothing but a phone call or a mouse click away.
Moonwalk insurance can be a very broad topic. It can range from a generic 13X13 inflatable bounce house set up in a backyard, to a massive inflatable obstacle course covering half of a football field. No matter what type of amusement device or equipment, there is always an insurance program that will offer coverage for it. The key point is finding the right person for the job. Based on facts alone; if anyone is reading this article, then that person just found the solution.
It doesn't matter if a company is mainly focused on inflatables or mechanicals, party furniture or concession stands, indoor or outdoor, wet or dry. Insure My Jumper will find the proper coverage that is perfect for any business needs. Whether the units are being rented out into the public or the operation is strictly an indoor/outdoor fun center, there is an insurance program tailored for those needs. Finding and securing this type of insurance can be a daunting task for the average insurance inquirer. But it is ready and available fast, easy and surprisingly affordable through http://www.insuremyjumper.com
Hundreds if not thousands of satisfied amusement insurance shoppers testify to the genuine care they received from an Insure My Jumper agent at one point or another throughout their business venture. Due to the knowledge and the expertise these professionals possess, they are quickly turning themselves into a household name among the inner circles of communities within the amusement insurance industry in general. The management of Liberty United Insurance is quoted in their promise to all amusement insurance shoppers by stating "Once you give us a single opportunity to service your insurance needs, we will earn your business for a lifetime."
In conclusion, no matter what kind of equipment an inventory may be comprised with, regardless of the risk the equipment may be involved in, no one needs to settle for substandard service or high premium rates when you can get a very competitive and affordable rate as well as above and beyond service from an Insure My Jumper agent. The growth of today's amusement insurance market has evolved and remarkably has come a long way in an unpredictably short period of time. Insurance seekers now have information and material to self-educate with and to be properly informed about the nature of this unique operation of amusement devices. The personnel at Insure My Jumper gives a whole new meaning to representing the best interest of their clientele with a sincere conviction to honesty and integrity. Visit http://www.insuremyjumper.com and witness firsthand what many that came before are already unquestionably sure about. They are a dependable and a reliable source of amusement device insurance that is here to stay for good.