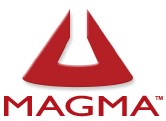 San Diego, CA (PRWEB) September 30, 2013
Tim Miller, president of Magma, a developer of computer expansion products for servers, desktops and portable platforms, announced today the company's enhanced focus on providing products to the world's creative professionals. The announcement heralds the coming of a new line of products that will add to the company's current line of Peripheral Component Interconnect Express (PCIe) expansion products.
Magma computer expansion products allow users to increase their computing or storage capacity by packaging high performance components in external chassis. Those chassis can then be tethered to the computer's primary processor via various high-speed data connections. The technology allows users to scale up or scale down their systems processing ability based on demand.
"The basic concept is similar to a portable hard-drive," said Miller. "The difference is that with our systems you can significantly expand your computer's performance and capacity. So you can put your high power graphics, video processing or audio cards in our systems, as well as additional storage, and run them together as though they were built into your main computer's chassis. It's the ultimate computing companion."
Magma has been developing computer expansion products since 1987 with the first applications being used for defense and intelligence operations. While defense applications continue to be a key focus for Magma, company executives have cited a growing demand for what they call "mission critical" computer expansion technology among creative professionals. The company offers a series of products that integrate with Mac and PC platforms.
"With the investments that are being made in today's creative projects, more and more serious professionals are demanding mission critical performance in their computing systems," said Miller. "Movie and record producers, architects and engineers, game programmers and more…They all want more power, more speed, more storage, more capacity, and they need to know that it won't crash when they need it most. These professionals would rather delay a release than have it arrive less than perfect. We share that same attitude, because we come from an environment where failure is not an option."
Magma expects to release its latest series of expansion computing products later this year. The new products will feature high speed PCIe as well as Thunderbolt, a new high-speed communications protocol that has been jointly developed by Apple Inc. and Intel Corporation. Magma is also planning a series of product and market announcements at trade shows and conferences over the coming months that are directly focused on how Magma can support the computing needs of creative professionals.
About Magma
Magma develops and manufactures expansion computing solutions using Peripheral Component Interconnect (PCI), Peripheral Component Interconnect Express (PCIe), and Thunderbolt Systems for servers, desktops and portable computing platforms. Magma's line of products includes enclosed and non-enclosed solutions ranging from single slot expansion products to fault-tolerant, Reliable Available Serviceable (RAS) systems specifically designed for mission critical environments. Magma products are platform independent and are used in a variety of industries including audio and video production, test and measurement, medical imaging, surveillance, aerospace and defense, telecommunications, data acquisition, and high performance computing. Magma's team of experienced engineers has been developing expansion and connectivity solutions since 1987 and holds more than a dozen technology patents, making them a pioneer and leader in the market space. All Magma products are designed and assembled in the United States. For more information about Magma, call (800) 285-8990 or visit our website at http://www.magma.com.