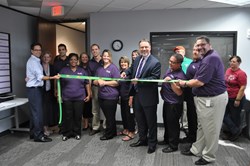 Purple has always been at the forefront of providing cutting-edge communications for deaf and hard-of-hearing individuals and businesses promoting equal communications and equal employment opportunities through advanced communications technology.
Rocklin, Calif. (PRWEB) September 30, 2013
Purple Communications™, Inc., a leading provider of innovative communications technology for people who are deaf, hard-of-hearing or speech-disabled, announced the opening of its seventeenth call center located in Greenville, South Carolina this month. The grand opening celebration held on September 5 included a ribbon cutting ceremony sponsored by the Greenville Chamber of Commerce, and was attended by deaf leaders and organizations throughout the community.
"With our recent releases of the SmartVP videophone and P3 software for desktop and mobile applications, we are experiencing growth in our video relay service (VRS)," says Purple President and Chief Executive Officer John Ferron. "Our decision to open a call center in South Carolina is a direct result of this growth, and we will continue to invest heavily in our expansion efforts over the next year, focusing on technology, call center support, network and corporate infrastructure, and future development of our existing products and services."
Since its inception, Purple has focused on the deaf consumer, creating VRS call centers across the nation and developing more choices in advanced communications technology that makes calling faster and easier for deaf and hard-of-hearing individuals.
"We have always invested in providing our customers more communication choices and services," said Mark Bella, vice president of sales. "We are humbled at how many deaf and hard-of-hearing people trust Purple with their communication needs, and this call center addition solidifies our commitment to ensuring our customers are always given the highest-level of service."
"We are very happy to have Purple in our community," says Greenville Chamber of Commerce Membership Development Specialist Julie Alexander. "Purple has always been at the forefront of providing cutting-edge communications for deaf and hard-of-hearing individuals, businesses and organizations, promoting not only equal communications access, but encouraging equal employment opportunities through advanced communications technology."
"With more than 800 talented deaf, hard-of-hearing and hearing employees and growing, as well as the release of several new groundbreaking products and services, I am pleased Purple is not only contributing to economic development by creating much-needed jobs across the United States, but continues to be a leader in VRS, creating an infrastructure that aligns with our mission to provide free-flowing, equal communications between all people," said Ferron.
About Purple Communications, Inc.
Purple Communications provides a high-quality video relay service (VRS) available from multiple platforms – TV, desktop, laptop, tablet and smartphone. VRS is a free service for deaf and hard-of-hearing customers who use sign language to communicate via video conference and a video interpreter (VI). The VI voices/relays the signed conversation in real-time to both deaf and hearing individuals.
Purple's portfolio of solutions spans across telephone captioning services, text relay services, on-site interpreting services and video relay interpreting (VRI) delivering a wide array of options to meet the varied communication needs of businesses and customers, collectively make communicating with both the deaf world and the hearing world accessible to all. For more information, visit http://www.purple.us.
About Telecommunications Relay Service (TRS)
Created by the Americans with Disabilities Act, Telecommunication Relay Service (TRS) is a telephone service that allows persons with hearing or speech disabilities to place and receive telephone calls. There are a variety of types of relay service including video (VRS), text and captioning services. TRS is available in all 50 states, the District of Columbia, Puerto Rico and the U.S. territories for local and/or long distance calls at no additional cost to the consumer. The Telecommunications Relay Services program is regulated by the Federal Communications Commission (FCC) and providers of such services are compensated for the costs of providing TRS from either a state or a federal fund. For more information related to TRS, visit http://www.fcc.gov/guides/telecommunications-relay-service-trs.