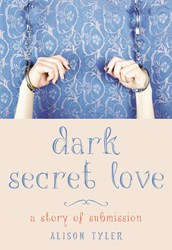 "Readers tired of sensationalistic portrayals of BDSM will appreciate Tyler's nuanced and realistic approach."—Publishers Weekly
(PRWEB) September 27, 2013
Alison Tyler, author of Dark Secret Love: A Story of Submission (Cleis Press, September 2013), gives an exclusive peak into her writing process on USA Today. Tyler reveals that "The words come wherever I am. And if I find myself unprepared, I end up with black ink scrawled up my inner arm, non-permanent tattoos to instruct me when next I have paper."
Tyler also explores the inspiration behind her new novel. The love described within the pages is partially based in her own experiences as a submissive. Furthermore, Tyler felt the need to portray a different kind of d/s dynamic than the type in the current classics of the genre. She says that writing Dark Secret Love "let me introduce a different type of situation: a Dom and a sub locked in a love affair with each partner needing the other equally, and where the two work together to find their own unique Happily Ever After."
Find more about Dark Secret Love, including information on the upcoming virtual book tour, at Alison Tyler's website.
What people are saying about Dark Secret Love:
"What all of us had hoped Fifty Shades would actually be."
—Violet Blue
"Readers tired of sensationalistic portrayals of BDSM will appreciate Tyler's nuanced and realistic approach."
—Publishers Weekly
Dark Secret Love's spunky and self-sure Samantha may be submissive, but knows exactly what she wants, and she isn't afraid to chase it. Dark Secret Love follows Samantha's quest for the perfect dom in an authentic, partially autobiographical meta-novel from literary siren Alison Tyler. This romantic tale of submission is only the first in a lustful trilogy.
Alison has attracted a wide following with her true-to-life tales, hailed by The Guardian as "a sulphurous personal memoir of past sexual activities which put Belle de Jour's timid exploits in the shade." She has quite the reputation as a sultry spinner of tales, and her latest work is no exception. Alison's first-hand knowledge of kinky relationships brings a delicious realism to the story, making it a novel that only she could write.
Alison Tyler has made being naughty a full-time job. Her sultry short stories appear in more than 100 anthologies, and she is a prolific editor of bestselling anthologies like The Big Book of Bondage and Down and Dirty. In all things important, she remains faithful to her husband of 15 years, but she still can't choose just one perfume. Find her at alisontyler.com and alisontyler.blogspot.com.