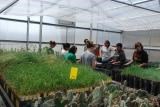 (PRWEB) September 28, 2013
Southern California Mountains Foundation has been awarded a $24,200 grant from the Disney Worldwide Conservation Fund (DWCF). The conservation grant recognizes Southern California Mountains Foundation's efforts in restoring high impact areas on the San Bernardino National Forest (SBNF) engaging youth, ages 11-17, from mountain and threshold communities to work alongside professionals from the Mountains Foundation and the SBNF ecological restoration team in addressing both remote and high-use areas.
"The San Bernardino National Forest has some of the highest number of visitors and recreational use in the country, causing an over-abundance of unmanaged recreation and subsequent degradation of forest lands," explained Stacy Gorin, Southern California Mountains Foundation director of operations. "Disney's long-term support since 2006 through their Wildlife Conservation Fund has allowed us to vigorously grow and out-plant native species to restore many areas that have been loved to death. At the same time, we're strengthening the science foundation of our youth through hands-on training and service," she added.
Youth volunteers are trained in a hands-on experiential environment to complete the necessary forest restoration on barren landscapes on the SBNF. This includes working at the greenhouse and native plant nursery facilities, participating in native plant workshops, and working at project sites to learn all components of restoration including native plant identification, seed collecting and propagation, plant native trees and shrubs, remove invasive weeds, project monitoring, care and evaluation.
In addition, the project includes a strong educational component which consists of classroom activities, field trips, and workshops. In partnership with the DWCF, the Mountains Foundation is growing the next generation of conservationists and public lands stewards. If you want to join the cause and assist in ecological restoration on the SBNF, please visit http://mountainsfoundation.org/childrens-forest/forest-restoration.
The Disney Worldwide Conservation Fund works to protect species and habitats, and connect kids to nature to help develop lifelong conservation values. Since its founding in 1995, DWCF has supported more than 1,000 conservation programs in 112 countries.
For information on Disney's commitment to conserve nature, visit http://www.disney.com/conservation.