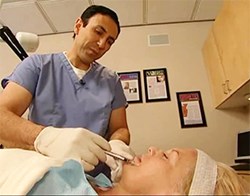 Los Angeles, CA (PRWEB) September 30, 2013
On September 11, 2013, The U.S. Food and Drug Administration approved the use of onabotulinumtoxinA, marketed as Botox Cosmetic, to treat moderate to severe lateral canthal lines, also known as crow's feet (go to: goo.gl/n21IQY). Neither Dysport nor Xeomin, direct competitors of Botox Cosmetic, or any other drug currently has FDA approval to treat lateral canthal lines.
"Wrinkles on the forehead and around the corner of the eyes are a common sight on the faces of people who are growing older or who spend a lot of time in the sun," says Dr. Simon Ourian, Medical Director of Epione Beverly Hills. "Botox Cosmetic, manufactured by Allergan Inc., offers a quick, effective, and simple option for treating these unsightly facial lines."
According to the FDA, Botox Cosmetic received its first approval in 2002 to treat glabellar lines, also known as frown lines that appear between the eyebrows. Administered via intramuscular injections, Botox Cosmetic can now be used to treat both crow's feet and frown lines at one go. Additionally, Botox is an approved treatment option for blepharospasm (eyelid spasm), chronic migraines, severe underarm sweating, and strabismus (misalignment of the eyes) as well.
Further, says the FDA, the effectiveness and safety of the treatment was established in two separate studies. Research was conducted on 833 adults who had crow's feet of varying severity. Some were randomly administered Botox Cosmetic while others were given placebo injections. The results revealed that individuals who received Botox Cosmetic showed greater improvement in reduction of lateral canthal lines than those who were injected with the placebo.
"In my opinion," says Dr. Ourian, "it's best to choose a well-experienced physician to administer one's Botox treatment. This helps reduce chances of complications and errors. One of the best things about a Botox treatment is that it does not require any downtime and clients can carry on with their daily routine immediately after the procedure."
Dr. Ourian has been a pioneer in laser technology and non-invasive aesthetic procedures including Restylane, Juvéderm, Radiesse and Sculptra. These treatments are used for the correction or reversal of a variety of conditions such as acne, acne scars, skin discoloration, wrinkles, stretch marks, varicose veins, cellulite, and others. More information about Botox for crow's feet can be found on Epione's website.