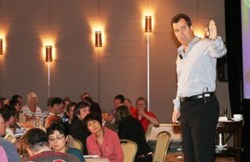 Expensive house prices are a problem, not only in Melbourne, but in many cities around the world, and a lot of people go around this problem with the help of creative property solutions,
(PRWEB) September 27, 2013
Rick Otton, a leading mentor in property investment in Australia, is coming to Melbourne on 26 October 2013 to teach creative solutions for finding affordable Melbourne property in a livable yet expensive city.
The Economist Intelligence Unit recently hailed Melbourne as the world's most livable city for a third year in a row.
A report from The Age on 29 August 2013, however, revealed that living in the world's most liveable city comes at a high cost because Melbourne residents pay premium prices for basic necessities such as food, rent, and especially when it comes to Melbourne real estate.
"Expensive house prices are a problem, not only in Melbourne, but in many cities around the world, and a lot of people go around this problem with the help of creative property solutions," said Mr. Otton in a recent interview.
"Creative real estate strategies are efficient tools in getting Melbourne property at a bargain price because it doesn't focus the deal on the price but on the terms of payment on the house. In other words, it makes a house easy to buy instead of just dropping the price to make it seem affordable," he explained further.
Mr. Otton then discussed that these flexible payment terms can be achieved with the help of different strategies.
"Instalment contracts is one of the basic strategies I teach to my students during my live seminars," Mr. Otton shared. "I use a variation of this strategy called 10:10 when doing property deals. In 10:10, you have to pay the seller 10 percent more for the price of the house, but on the condition that the payment will be finished in 10 years."
"It's a great bargain for the buyer because instead of paying high interest rates he only gets to pay a portion of the agreed price, while sellers get delayed gratification to earn more from their property with a just a little bit of patience," according to Mr. Otton.
"Melbourne should start living up to its name by making sure that the services and commodities offered to its residents are also affordable, but in the meantime those struggling to live in a 'liveable' city have creative strategies to help them get through," he added.
If you're interested to learn more strategies from Rick Otton you can join him in his Melbourne property event this October. You can register for this event on http://www.howtobuyahouseforadollar.com/.
About Rick Otton
Rick Otton is the Australian property coach responsible for creating the creative real estate strategies used in buying and selling houses which are in negative equity. He has been investing in property for 22 years, and he has helped around 30,000 people reach their property goals in the span of his career.
He developed creative real estate strategies in 1991 during the "Savings and Loan Crisis" in the United States of America. With the help of the strategy's prototype and his wife-Jane Otton, he was able to accumulate 76 properties in just 1 year. Mr. Otton constantly updates and improves these strategies as changes are introduced to related legislations and housing regulations.
The immediate success of the strategies prompted him to start the real estate company We Buy Houses Pty Ltd. Mr. Otton is currently the company's Chief Executive Officer and they now operate business in Australia, New Zealand, U.K., and U.S.A .
Recently, Mr. Otton achieved his life-long dream of publishing his own book- How To Buy A House For A Dollar. It is a compendium of all the strategies a property investor needs to buy and sell houses easily without the need for traditional bank financing.
How To Buy A House For A Dollar received critical acclaim in Australia, making it to the list of Top 10 Most Popular Finance Title for 2013 as voted by Money Magazine and Dymocks Book stores.
Mr. Otton also regularly conducts one-day seminars, free of charge, around Australia about his book. The How To Buy A House For A Dollar One Day Live Event brings together seasoned experts of creative strategies with new students for an interactive discussion of the book's contents.
More information about Rick Otton's book tour can be found in http://www.howtobuyahouseforadollar.com/ or call 1300 888 450 if you're in Australia.