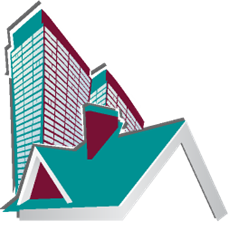 Pompano Beach, Florida (PRWEB) September 30, 2013
This week, TopTenRealEstateDeals takes a look at a curvaceous skyscraper in Canada that is nicknamed the Marilyn Monroe Tower, Atlanta's most expensive home that has been the backdrop for "Zombieland" and "The Three Stooges" movies, and what might be the most expensive log home in the world at $15 million – it even has its own casino.
Winner of the world's most renowned prize for high-rise architecture for 2012, the Emporis Skyscraper Award, is the Absolute World Towers in Mississauga, Canada, a suburb of Toronto. Better known to locals as the Marilyn Monroe Towers because of their voluptuous curving shapes, they're the first of their kind, designed by MAD and Burka Architects, and were chosen over 300 skyscrapers worldwide.
At 56 stories, 430 condo units and a six-level underground parking garage, the buildings twist by up to eight degrees per floor, which not only garners visual attention, but is also functional in climate control. No two floors are the same. The 50th-floor penthouses feature high-end design and panoramic views starting at $888,000 USD for 1,600 to 1,800 square feet.
Buckhead, a suburb on the north side of Atlanta, is sometimes referred to as the "Beverly Hills of the South" due to its extreme concentration of wealth. Forbes lists it as the ninth wealthiest zip code in the United States, so it makes sense that Atlanta's most expensive neighborhood should also contain Atlanta's most expensive home at $19.9 million. Not only is it known and ogled by the locals, but has also drawn considerable interest as a movie and TV set. So far, it has been the backdrop in "Zombieland" and featured in the 2012 movie, "The Three Stooges." It has also played a starring role in reality series such as MTV's "Teen Cribs" and HGTV's "Million Dollar Rooms," and soon will be featured in the new Eva Longoria produced television series "Devious Maids."
Measuring in at a whopping 40,000 square feet of lavish interiors, the home consists of nine bedrooms, fifteen bathrooms, library, gym, main public rooms, media room and wine cellar. There is a guest house, pool, spa, hot tub and the extras of a music studio and hair-nail station. Notable are the highly crafted ceilings, many in 24-karat gold leaf. There are also seven kitchens and servants' quarters. European artisans were brought in to lay the stonework around the pool that are worth over one million dollars.
Log cabins have evolved from the pioneer cabin near a river or spring where water had to be hauled by hand in buckets, food was hunted and cooked in pots or spits hanging in the fireplace and the winter winds leaked in through the mud chinking. Life was hard. But what happens when 21st century wealth that knows no limit on price turns its gaze on the log cabin concept? It evolves into a mammoth log cabin in the celebrity playground of Mammoth, California, hardly recognizable to the original pioneer - now for sale at $14.9 million.
Requiring at least a mid-sized forest of trees, this may well be the largest log cabin in the world, and likely the only log cabin with its own casino. This gargantuan 16,500 square foot, nine-bedroom, ten-bathroom estate on 3.22 acres overlooks June Lake. The main structure includes large living and entertaining spaces with high vaulted ceilings and glass walls overlooking the lake and mountains. There is a chef's kitchen, 11 fireplaces, sauna, two steam rooms, gym, sports court, theatre-media room, caretakers quarters, eight-car covered parking and the separately housed casino. Also included in the sale are unique furnishings and antiques estimated to be worth over $1 million.
Real estate is never boring at TopTenRealEstateDeals. Check out today's most entertaining and unusual real estate news stories of the week. News such as the Detroit home where Eminem grew up that might sell for just one dollar, latest celebrity home news, and good times for the Empire State Building.
Top 10 lists are available to media outlets for publication. TopTenRealEstateDeals free celebrity & famous home photos available at: http://bit.ly/toptenmedia.