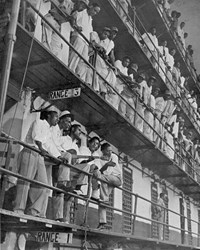 The Prisonaires were one of the most important groups I ever recorded at Sun Records. - Sam Phillips
Los Angeles, CA (PRWEB) September 28, 2013
It was the 50's. They were Black, they were in prison, and their sound started a music revolution. In the halls of American pop culture there is a legend about music setting the prisoner free. The story of "The Prisonaires" has been identified as one of the earliest known cases where the prisoner truly was set free by the power of music.
Award-winning Director Cass Paley, known for the PBS documentaries Guns of the Old West, Guns of the Civil War, and World War II: Breadlines to Boomtimes takes us on an important journey into one of the most compelling tales to date in music history.
The Prisonaires were an African-American doo-wop group whose hit, "Just Walkin' in the Rain", was released on Sun Records in 1953, while the group was incarcerated in the Tennessee State Penitentiary in Nashville. The group was led by Johnny Bragg, who had been a penitentiary inmate since 1943. The Prisonaires were formed when Bragg joined up with two prison gospel singers, Ed Thurman and William Stewart and two new penitentiary arrivals, John Drue Jr. and Marcell Sanders.
The group performed in a variety of receptions and civic functions as demonstration of the new governor Frank Clement's enlightened rehabilitation program, where they played a mix of blues, gospel and pop songs under armed guard. The record took hold first on radio and then became a major seller, moving over 250,000 copies. The Prisonaires had arrived, and found themselves in demand for a series of television and concert appearances. They gradually became high-status figures in Tennessee, and never betrayed the trust placed in them by trying to escape their guards on their numerous forays outside the prison. A second single followed in August 1953, the highly spiritual "My God Is Real", followed by "I Know" and its autobiographical b-side, "A Prisoner's Prayer". While recording their first record, they made the acquaintance of Elvis Presley, who later visited them in prison.
A rough cut version of the documentary debuted this year at The 8th Annual Harlem International Film Festival where it received critical acclaim.
Right now, the documentary's future hinges on needed fundraising, which is being crowd-sourced via IndieGoGo. In order to complete final editing and sound as well as pay for photo use and music rights, the producers need to raise around $20,000. The Prisonaires Documentary is slated to make appearances in several more festivals, including ones in California and Tennessee. In order to gain final acceptance, the final cut has to be completed.
"Our goal is to get the widest audience possible for this documentary so these ground-breaking artists can finally get the recognition they deserve and never received for their art and contribution to music," said Cass Paley in a brief phone interview. "This group influenced an entire generation with the songs they wrote - songs that often were sold and recorded by major artists that they never received credit for. This story needs to be told, and their place in history acknowledged." The fundraising effort includes some great rewards and can be found at the Indiegogo.com.