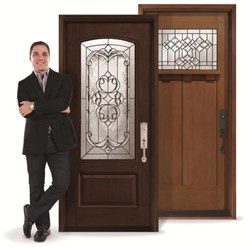 I am very proud of our team and what we have accomplished...
Vaughan, Ontario, Canada (PRWEB) September 27, 2013
To mark the occasion, a celebration of staff and management was held on September the 20th at Tru Tech's head office in Vaughan. John Careri, president and founder of Tru Tech Doors presented the 36" wide x 6'8" high 2 panel door as a testament of what can be done if you truly believe in yourself and the people you associate with. Careri says, "I am very proud of our team and what we have accomplished. It has been a lot of hard work by dedicated people, prepared to go the extra mile that has brought us to where we are today. Along the way, we have developed a lot of friends and a strong core of customer relationships. Most of all, we have had fun and look forward to meeting whatever challenges and opportunities come our way!" The door panel was signed by all and will hang proudly in the Vaughan facility.
Tru Tech Doors is a manufacturer of steel doors, operating from locations in Vaughan, Ontario and Fredericksburg, Virginia. Along with steel door panels in both wood and steel edge, Tru Tech manufactures fiberglass door panels, as well as designs and manufactures decorative glass and wrought iron door inserts. Tru Tech Doors is a provider of high quality entry systems for residential multi-family, and light commercial applications.
For more information or Tru Tech Door product inquiries:
trutechdoors.com
Facebook.com/TruTechDoors
Twitter.com/TruTechDoors
Linkedin.com/company/tru-tech-corporation
Pinterest.com/trutechdoors/
Houzz.com/pro/trutechdoors/tru-tech-door
1-888-760-0099
Tru Tech Doors - Dealer / Customer Support