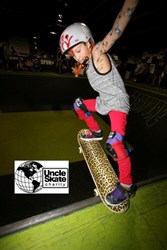 Helping kids is what its all about
Phoenix, AZ (PRWEB) September 28, 2013
Leading skateboard charity Uncle Skate is proud to announce they have gave away over 50 skateboards in the small town of Rocky Point Mexico. The small beach town has a growing interest in the youth for the creative sport of skateboarding. Thanks to the donors that help uncle Skate they are able to help make a number of kids dreams come true.
As being a federally recognized 501(c)(3) exempt charity in early 2013 the remainder of the year has been very exciting for Uncle Skate Charity. In February team rider Rad Pinckard took 1st place at the Grand Canyon State Games in Queen Queek, Arizona at AZ Grind Skatepark. 13 year old super skate star Trey Wood took 1st place in Sweden at the Malmo ultrabowl in August. And the newest addition to the skate team, 8 year sensation Lazer Crawford. Crawford took 1st place in the summer series top grom.
Uncle Skate Charity is a non-profit foundation for skateboarders and their mission is to donate free skateboards to children around the world by connecting to the world by the use of global contributions of equipment and skateboards. They help people both young adults and children to realize their potential and help build their future. This charity created a sense of awareness especially to those less fortunate all over the world and they have developed vital components that can provide lasting and direct effect on young people lives.