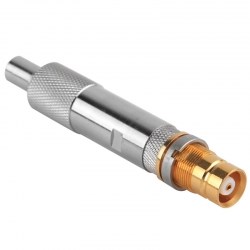 (PRWEB) September 28, 2013
Recently RFcnn.com has launched a collection of Mini Balun RF connectors. The launch is for the worldwide market and the connectors are offered in varying specifications to meet the requirements of different customers.
Mini balun is an electric device which is used in converting between balanced and unbalanced signals. The company supplies these connectors in four different varieties so that customers can get what they need. The company puts great emphasis on customer satisfaction and qualified team of expert engineers hired by the company ensure that it can deliver to client expectations.
The company has deployed quality regulations which are strictly applied and monitored. The company ensures that every product it offers meets the international standards of quality. The CEO of RFcnn.com says, "To achieve the best results, we have installed high end machinery and equipment at our production plant. Future growth opportunity in this market is expected to stem from the expansion of the electronic industry and commercialization for niche applications."
In addition to this, the company has launched several promotional offers on its various products. The discount offers are aimed at increasing the company's market share as well as facilitate customers so that they can buy the desired products at friendly rates. The company is the market leader in RF connectors. It has innovative and most advance designs and manufactures excellent quality RF connectors. It has a wide range of the connectors and passive devices as well.
RFcnn.com is owned by Zhenjiang Fourstar Electronics Co. LTD, a company based in China. It supplies different electronic RF connectors and passive devices and is known for its high quality.
More details at http://www.RFcnn.com/Mini-Balun-1-6-5-6-L9-female-to-IDC-AWG24-26-RF-Connector-88.html.