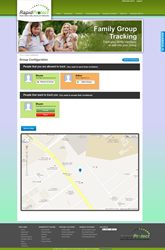 With thousands of families relying on Rapid Tracker apps to track their loved ones, we want to be sure that it's easy and intuitive for our users to manage all the functionality
Princeton, NJ (PRWEB) September 27, 2013
Rapid Protect (http://www.rapidprotect.com) launched a new web interface design today to help users discover, manage and access core features of its popular Rapid Tracker family safety mobile apps. Rapid Tracker is an advanced family safety and collaboration app available on most mobile platforms such as iPhone, Android, Blackberry and Symbian feature phones. The entire web user interface has been redesigned to better assist the users in what they need to do to remain in touch with their family members with these apps.
The newly launched web interface features a new layout that provides a cleaner and color rich design. It is now easier to monitor and track the locations of selected family members in the map and view their past check-in history. Users can also manage advanced features such as add new members to a family group, create geo-fencing boundaries, add timer events, and manage shared media resources of the family. The new web interface makes it easy for family members to continuously track a family member from a PC or a Tablet.
"Our previous design served us well," said Rapid Protect's COO & Head of Technology Development Dr. Brijesh Kumar in discussing the new design, "but our user base has grown tremendously in the past few months. With thousands of families relying on Rapid Tracker apps to track their loved ones, we want to be sure that it's easy and intuitive for our users to manage all the functionality that they expect in an industry leading product like Rapid Tracker. Our aim is to make our interfaces super easy to use for every Grandma and Grandpa in the world."
Rapid Tracker applications are available in all international markets and will work in all countries of the world. All Rapid Protect applications can be downloaded at http://www.rapidprotect.com.
About Rapid Protect:
Rapid Protect (http://www.rapidprotect.com), a division of Rapidsoft Systems, is based in Princeton, NJ, USA. It produces many mobile applications for family safety such as "Rapid Tracker," "Rapid Protect," "Driving Control," Road Safe Driver," "Speed Control" etc.
RapidSoft Systems, Inc.
Rapidsoft Systems, Inc. (http://www.rapidsoftsystems.com) is a leading Outsourced & Offshore Software Product Development company with headquarter in the United States and product engineering centers in United States & India. It partners with technology companies and software-enabled businesses to help them bring quality software products to market through dedicated or on-demand offshore engineering teams. It has a subsidiary, Mobisoft Technologies (http://www.mobisofttechnologies.com) dedicated to mobile applications development located in Noida, India.
Rapidsoft Systems, Inc. has its main office in Princeton, NJ, USA, a US R&D Center in Mercerville NJ, and sales, support and development offices in Palo Alto, CA, USA, Dubai (UAE), and Noida (India).