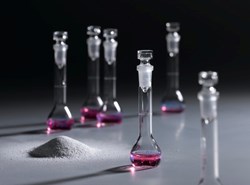 Come and see the full potential of hyaluronan in medicine and pharmacy.
(PRWEB) September 30, 2013
At October's CPhI Worldwide 2013 in Frankfurt, Germany, Contipro Pharma will be demonstrating innovations in raw materials and nanomaterials made from hyaluronan, an autologous substance used to treat joints and eyes. It is increasingly being singled out as the ideal material for tissue engineering. Contipro will present raw materials suited to the development of modern materials and applications made from hyaluronan.
Hyaluronic acid's most common forms of pharmaceutical application are knee injections and eye drops. This substance's enormous capacity for hydration and lubrication are exploited here. However, new avenues of research are using hyaluronan to create materials for the replacement of damaged cartilage and even entire organs. In addition, wound healing products, promising targeted drug carriers and even materials to repair broken nerves are being developed. The substance is being used in all of these applications because it is a compound naturally occurring in the human body and offers huge potential to promote regeneration. Come and see the full potential of hyaluronan in medicine and pharmacy.
International pharmaceutical exhibition CPhI Worldwide will take place from 22nd to 24th October in Frankfurt. The Contipro booth, where you will be able to explore hyaluronan derivatives, oligosaccharides, and even native hyaluronic acid prepared as nanofibres, can be found at stand number 30E37.