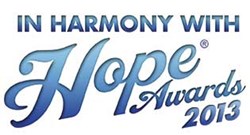 Burlingame, CA (PRWEB) September 27, 2013
The Elfenworks Foundation announced the recipients of the 7th Annual In Harmony with Hope Awards, a group of social entrepreneurs who are providing inspiration, hope, and solutions for our country's youth in the areas of education, violence prevention, and entrepreneurship programs. Last evening, the honorees were presented with individual cash prizes of $25,000 at the Kohl Mansion in Burlingame, CA. For the third year, Wells Fargo contributed $10,000 in support of the program.
The 2013 In Harmony with Hope honorees are as follows:

Christa Gannon, JD, Founder & CEO, Fresh Lifelines for Youth (SF, CA) – Preventing juvenile crime and incarceration through legal education, leadership training, and one-on-one mentoring.
Gary Slutkin, MD, Founder & Executive Director, Cure Violence (formerly CeaseFire Chicago) – Reversing the spread of violence through detection, identifying transmission methods, and changing social norms.
Andrew Yang, Founder & CEO, Venture for America (NY, NY) – Providing a path through entrepreneurship to college grads who want to revitalize American cities and communities.
For more information on the 2013 In Harmony with Hope Award winners, visit The Elfenworks Foundation or email binay.curtis(at)elfenworks(dot)org.
About Elfenworks: The Elfenworks Foundation works for hope in America by fostering creative and technology solutions that advance change. Elfenworks identifies chasms, creates change, and amplifies success through projects and partnerships that share one common goal: helping hope grow. Elfenworks fosters thousands of student social justice filmmakers and musicians in partnership with Campus MovieFest. The Breathing Butterfly program helps kids cope with toxic stress. Elfenworks is located in Burlingame, CA.