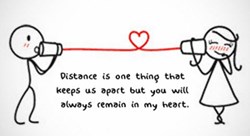 Los Angeles, CA (PRWEB) September 28, 2013
Living together physically has been a value commonly emphasized by couples for so many years. Long-distance relationships obviously stand against it. Many people believe that long-distance relationships are doomed to fail. However, a study published in the Journey of Communication on July 18, 2013 reveals that long-distance relationships are stronger than relationships between couples who live together or close by. Different from the negative view of long-distance relationships, this study offers a glimmer of hope to couples who live far from each other.
Long-distance relationship may strengthen a couple's bond, but one problem that cannot be ignored is that people may feel lonely and be tortured by love-sickness if they have a long-distance relationship. Just like the song says, "Oceans apart, day after day, and I slowly go insane". When people look at long-distance relationships, they hold different opinions and finally decide whether to bravely accept the challenge of starting or keeping a long-distance relationship.
Recently, MillionaireMatch.com, which is the largest dating site for millionaires, discovered that 46.28 percent of its members allow their match within any distance. That is to say, they do not mind long-distance relationships. Surprisingly, only 0.4 percent of millionaires hope their match live within 50 miles from them. Approximately 11.38 percent prefer their match to stay within 100 miles. According to the data cited in the study Journey of Communication, about 3 million Americans live apart from their spouses for reasons other than divorce or problems.
It seems that long-distance relationships are popular now. More and more people give long-distance relationships a try. The distance increases the awareness that long-distance relationship partners need to contact each other more often than partners who are close by in order to keep the relationship. They can hear each other's voice and see each other through plenty of ways such as mobile phone and other social media. When they want to go shopping or take part in a party, they can go freely. For millionaires, they can fly to him or her in the morning and get back home the next day on weekends. There are no exact data that can show how many millionaires on MillionaireMatch.com are willing to move together with their match, but possibly there are some.
It is true that long-distance relationship is challenging, but people should take an objective view about it. It is not wise to say that long-distance relationship is a failure nor to say long-distance relationship has no influence at all on people's life.
About MillionaireMatch.com
As the largest millionaire dating site, MillionaireMatch.com has been bringing together successful singles for over 12 years. Customers on MillionaireMatch include CEOs, pro athletes, doctors, lawyers, investors, entrepreneurs, beauty queens, fitness models and Hollywood celebrities. It also was voted as "Best of the Web" by Forbes.com.